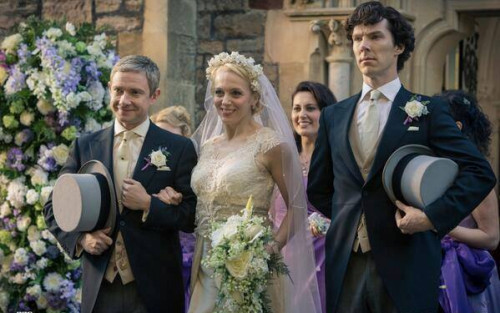 The second episode of Sherlock's latest season is mostly about the protagonist's (Holmes) wedding speech at the wedding of John Watson and Mary Morstan. How the plot of the episode gets incorporated into the speech forms the highlight of this second installment.
"Almost the entire Sherlock episode, The Sign of Three, takes place during the wedding reception of John Watson and Mary Morstan. All of the action, in fact, becomes part of Sherlock Holmes' rather extraordinary wedding speech," says Laurel Brown of Zap2it.
The new season's first episode titled 'The Empty Hearse' delivered staggering viewership numbers. According to Digital Spy, the second episode's 'idiosyncratic visual elements' are stronger compared with episode 1, thanks to director Colm McCarthy. However, the overall scale of The Sign of Three is a lot more limited.
Here's what reviewers have to say about the much-awaited episode 2 of Sherlock season 3:
Talking about Holmes' and Watson's 'bromance', Michael Hogan of The Telegraph says that the episode was really about "that other happy couple, Holmes and Watson", and how Watson's new marital status would affect their relationship.
The review also praises Cumberbatch's performance in the episode calling Holmes "kind, wise and witty, yet childishly jealous and endearingly naive."
The episode was loaded with flashback moments as Holmes recalled previous cases (during his speech) such as The Hollow Client, The Matchbox Decathlete, The Mayfly Man, The Poison Giant, The Bloody Guardsman and, most amusingly, The Elephant in the Room.
Towards the end, the meaning of 'Three' in the episode's title also gets revealed as Holmes figures out that Watson and Mary are about to become parents.
As per Mirror's verdict, it's a sombre way of ending a superb and often hilarious episode of the series. Viewers' love for the characters will be left at an all-time high as they prepare for whatever may come in the final episode: His Last Vow, according to the review.