Rex Tillerson kicks off Asia tour from Japan, to discuss Pyongyang's increasing missile threats
The US secretary of state will also visit China and South Korea during the trip.
US Secretary of State Rex Tillerson landed in Tokyo on Wednesday (15 March) as he kick starts his Asia tour where he will discuss North Korea's increasing missile threats along with Japan's Prime Minister Shinzo Abe and Foreign Minister Fumio Kishida. This is the top US diplomat's first visit to the region since taking office in February.
Tillerson, the former CEO of ExxonMobile, will hold talks on Thursday on a range of diplomatic issues, but Pyongyang is expected to dominate the agenda.
Although the 64-year-old's scheduled meeting with Abe is more of a courtesy call, his session with the foreign minister will reaffirm ties between the two countries, and cooperation with South Korea in the wake of increasing threats emerging from the North.
Tillerson is scheduled to visit South Korea and China as well during the trip.
Territorial tensions in the South and East China Seas are also expected to feature prominently during the discussions. Tillerson's trip assumes significance as Trump has repeatedly asserted during his presidential campaign that US's allies should start contributing more to defend themselves, but has toned down the demands since he became president.
Meanwhile, ahead of his tour, the state secretary kicked up a storm in Washington as the state department said it had changed its press coverage rules. In line with Tillerson's preference to keep a low-profile, the department allowed only one journalist – representing a conservative publication Independent Journal Review – to join him on the trip.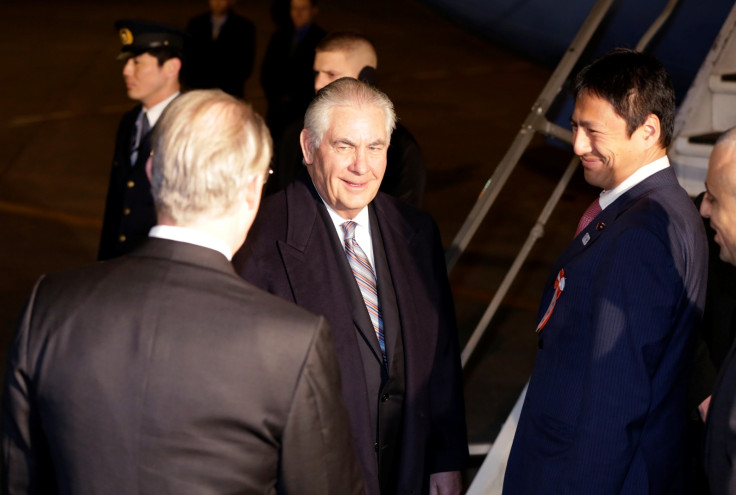 Normally, about 15 reporters, accredited with the state department, travel with the secretary on foreign tours with the expenses being paid by the respective media outlets. The latest break from the 50-year-old tradition in curbing media's access to the top diplomat.
Responding to the move, the department's spokesperson Mark Toner said: "This is a chance, or an opportunity at the beginning of a new administration, to look at outside-the-box –if I could say that – approaches to how we cover or how we handle coverage of the secretary. It was decided to take a journalist who was not, or from an outlet that doesn't normally travel with the secretary, as part of an effort to include a broader representation of the US media."
© Copyright IBTimes 2023. All rights reserved.