The controversial statue of Cecil Rhodes is to stay in place at Oxford University following threats that bequests and gifts would be withdrawn if it were taken down, it has been reported.
Oriel College, which owns the statue, was warned that it could lose up £100m worth of donations. Already some £1.5m worth of donations have been cancelled.
The Daily Telegraph reported that it had seen a copy of a leaked report prepared for the governers showing how wealthy alumni were angered by the proposal to remove a plaque marking where Rhodes lived. Many were also unhappy at plans for a six-month consultation over whether the statue of the college's biggest benefactor should be taken down.
Oriel College confirmed in a statement to the Telegraph: "Following careful consideration, the College's governing body has decided that the statue should remain in place."
It has emerged that one of those who had already cancelled their legacy was going to leave a "seven figure sum" and the college is aware that "another major donor is furious with the College... whose legacy could be in excess of £100m".
The paper said that Sean Power, Oriel's development director had told the governors that the college was unprepared for the condemnation of the suggestion that the statue might be removed, described by the classicist Professor Mary Beard as a "completely barking" plan to "erase" history.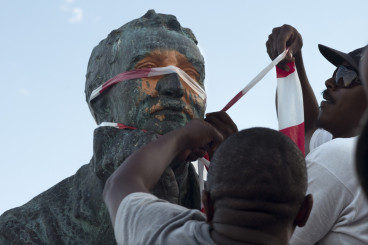 Power wrote that: "The overall reaction has been significant, much more than any in the College predicted. It has also been overwhelmingly negative of the College's position and its actions."
It follows condemnation towards statues of Rhodes across the world, starting with students of the University of Cape Town in March 2015. That sentiment has spread across the map to Oxford, where students feel the monument outside Oriel College represents the darkest aspects of the British Empire.
But according to the YouGov poll, 59% of respondents say it should not be taken down compared to 11% who say it should.
Oriel College said in a statement: "The overwhelming message we have received has been in support of the statue remaining in place.
"The College believes the recent debate has underlined that the continuing presence of these historical artefacts is an important reminder of the complexity of history and of the legacies of colonialism still felt today."