Scientists have confirmed the skeleton exhumed from a car park in Leicester last September is Richard III, one of the most reviled kings in English history.
Speaking at a press conference at the University of Leicester, the lead archaeologist Richard Taylor confirmed "beyond reasonable doubt" the skeletal remains found at Grey Friars on 12 September belong to the Plantagenet king, who died in 1485.
Described as a "truly astonishing" discovery, experts were able to confirm DNA from the bones discovered beneath the car park matched that of a descendant of the former king's family.
Osteologist Jo Appleby added that a study into the bones revealed the person suffered 10 injuries, including eight to the head, and the bones belong to a man in his late 20s to early 30s who died between 1455 and 1540.
All of this information led to "a highly convincing case for identification of Richard III", who died at the Battle of Bosworth Field in 1485 aged 32.
The remains had lain undiscovered for centuries due to the redevelopment of the town.
Sir Peter Soulsby, the mayor of Leicester, confirmed the body will remain in Leicester and will be reinterred at Leicester Cathedral, not far from where it was found.
Taylor added at the press conference: "This is a historic day for Leicester."
Dr Turi King, the project geneticist, said: "There is a DNA match between the maternal DNA from the descendents of the family of Richard III and the skeletal remains we found at the Greyfriars dig. In short, the DNA evidence points to these being the remains of Richard III."
A Channel 4 documentary entitled Richard III: The King in the Car Park will be shown tonight to detail the discovery and subsequent analysis of the skeleton which led to this announcement.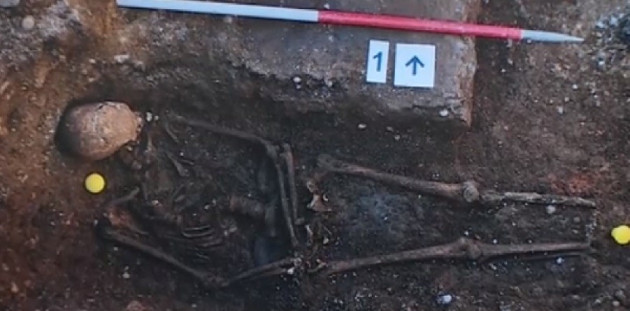 Time to rewrite history
Richard III's death marked the end of the 30-year War of the Roses and ushered in the period of Tudor rule, which began with Henry VII.
Shakespeare portrayed Richard III as hunchbacked villain, but many historians believe this image is unfair and was a result of a smear campaign by his Tudor successors.
Lynda Pidgeon of the Richard III Society said: "Today marks the culmination of an extraordinary journey of discovery.
"We have searched for Richard and we have found him, now it is time to honour him.
"It will be a whole new era for Richard III. It's certainly going to spark a lot more interest. Hopefully people will have a more open mind toward Richard.
"With Henry VIII you've got six wives, sex and things going on. It's a bit hard to compete with that when you are a bit more straight-laced, as Richard was."