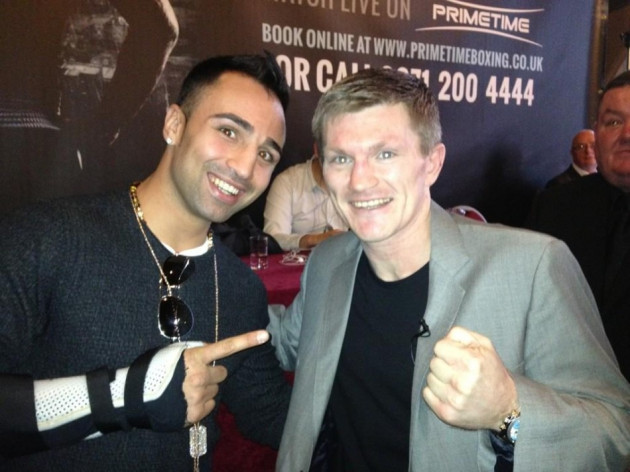 Ricky Hatton has claimed that he will be at his 'meanest and most ferocious' when he enters the ring on Saturday night in Manchester in his highly-anticipated comeback fight against Vyacheslav Senchenko.
The 34-year-old was attending his final press conference ahead of the welterweight clash which will represent Hatton's first professional fight in three and a half years.
His Russian opponent may not have been in attendance, for some reason refusing to show for the final head-to-head, but there was an appearance from current WBA welterweight champion Paulie Malignaggi.
The Magic Man lost to Hatton when challenging for the IBF light-welterweight title back in 2008 when he was eventually halted in the 11th round. However, he has continually stated that he would love the opportunity to once again face the Hitman.
"It would be an honour to fight Ricky again," Malignaggi said after beating Mexican Pablo Cesar Cano on a split points decision back in October.
The Ney York fighter is clearly motivated to avenge his loss against Hatton and if the Brit can prove his credentials against Senchenko then it seems he could quickly secure a world title opportunity.
As Hatton prepares to face Senchenko, the man Malignaggi beat to win the world title belt, he has spoken of his desire to prove that he is even better now than he was when he won his first championship against Kostya Tszyu.
"The Ricky Hatton sat here is the meanest and most ferocious Ricky Hatton you've ever seen," he said.
"Seven years ago I beat Kostya Tszyu at the Manchester Arena and I was at my hungriest because I had a dream of becoming world champion but the desire I have for this fight is way beyond becoming a world champion.
"All those world titles mean nothing to me. I'm here to right the wrongs I've done. I know you won't believe me, after burning the candle at both ends, the second-round defeat against Manny Pacquiao, no way can he come back the same. Well I won't come back the same, I'm going to come back better."
Hatton also revealed his reasons for wanting to return to the ring, having lost more than five stone in a matter of months.
He added: "There's a lot of people out there, fight fans and public, that have seen me at 15 stone bouncing round Manchester drunk as a skunk and must have looked at me in disbelief and thought, 'was this the man we used to admire, who won all those world titles'?
"I turned into a very, very sorry state. I feel like I've already won. Five months ago if I said I was going to come back you'd have laughed but I've brought my weight down in the correct way."
Hatton was once considered one of the most ferocious body punchers in the business as he won world titles at two weights and amassed and impressive record of 41 wins without a single loss.
However, a 10th round stoppage at the hands of Floyd Mayweather and a devsating second round knockout by Manny Pacquiao sent Hatton into retirement.
Now seemingly hungrier than ever to get back to winning ways, if he can win in impressive fashion in front of his adoring Manchester crowd then there is little doubt that he could land a title opportunity to Malignaggi.
The Hitman against the Magic Man. We cannot wait.