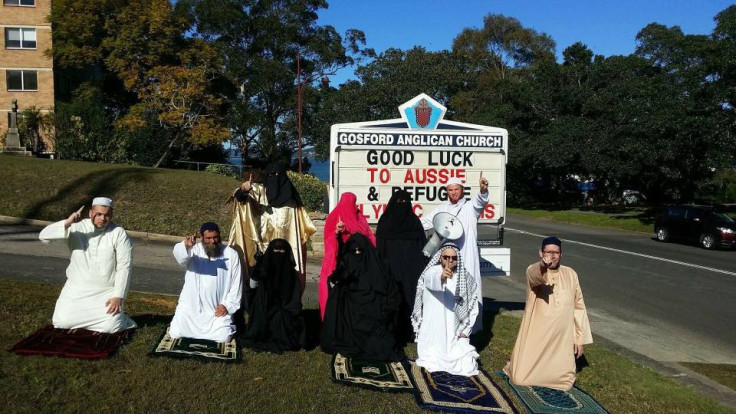 A group of people wearing traditional Muslim outfits stormed a church service in Australia's east coast on Sunday (14 August) and started chanting anti-Muslim slogans. The group belonging to the Party for Freedom, which reportedly supports anti-immigration party One Nation, said their act was to protest against the church's support for Islamic leaders and multiculturalism.
The incident took place at Gosford Anglican Church on the Central Coast of New South Wales. Australia's top Muslim body, Australian Federation of Islamic Councils, has asked One Nation leader Senator Pauline Hanson to denounce the act, which the church termed as "racist".
The incident has fuelled demands for the repealing of section 18C of the Racial Discrimination Act, which would make it illegal to publicly "offend, insult, humiliate or intimidate another person or a group of people". However, there are several senators, including those from One Nation, who are reportedly trying to strike it down. Meanwhile, police launched an investigation into the incident following a complaint filed by the church.
Narrating the incident, father Rod Bower said that around 10 members of the Party for Freedom entered the church at about 9.30am local time while a sermon was underway and started abusing him. "Using a loud speaker, starting to abuse me in particular for the work we do... they violated our sacred space. It was typical rhetoric from the extreme right, vilifying Muslims and multiculturalism as a whole.
"[They said] Muslims are taking over, they had some prayer mats and mock prayed; they had a recording of the Koran being sung," Bower was quoted by The Sydney Morning Herald as saying, noting that the act left some people at the sermon "deeply traumatised".
The group, before leaving, allegedly threatened the church and said: "Do not promote Islam." The right wing supporters also posted a video of their act on Facebook, which shows them passing remarks such as "rich tapestry of Islam", and "the Western world is living in denial".
"We just went into Father Rod Bower's church and let him know we're not happy with his ... nonsense about sponsoring Islam and multiculturalism," one man reportedly said in the video.
In another video, a member of the group said: "Keep voting Labor and Liberal and this will be the future. This is the future of Australia with cultural diversity, with mass Muslim immigration into Australia. You voted for it.
"You are being replaced, your government is at war with you. With mass Third World immigration and Islam coming into Australia to take over, when will the Australian people wake up? It is time to wake up, Aussies."
Chairman of the Party for Freedom, Nick Folkes, told Fairfax Media that he was among the group that visited the church. However, he clarified that they are not affiliated with One Nation, but support Pauline Hanson's stance on immigration. "We held the protest to challenge [Father Bower's] promotion of Islam and Muslim immigration," Folkes was quoted by the paper.