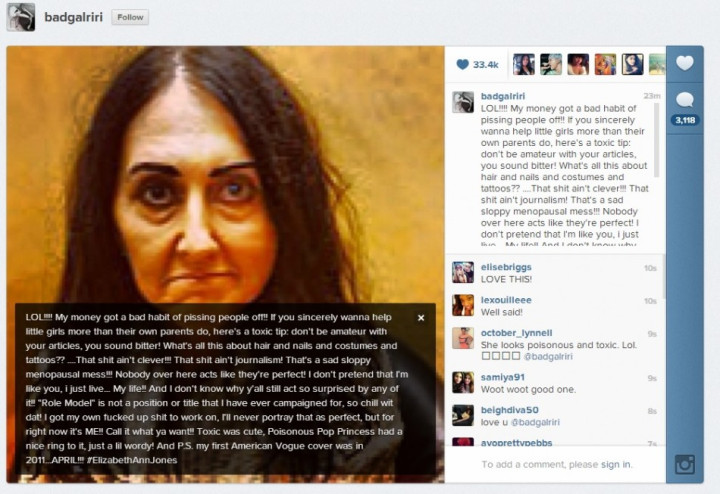 Rihanna has slammed top Daily Mail columnist Liz Jones as a 'menopausal mess' in an online rant on Instagram.
The 25-year-old singer let rip at Jones after the writer's article describing the singer as a 'Poisonous Pop Princess' and a 'toxic role model for her army of young fans', was published in the Mail earlier this week.
An extract from Jones' article reads: " I wish she'd stop infecting our high streets with her gun tattoos, her false nails and fake hair, her bogus bad-ass shenanigans that try to portray her as 'real', as 'street', as her own person, as strong and single-minded."
In the article, the controversial writer also suggests that the 'sleazy' Diamonds temporarily toned down her bad girl image to get on the cover of American Vogue, adding "she got it, too, in November last year".
But the story- described by online blogger London Feminist as 'unhelpful and unconstructive'- clearly touched a nerve because Rihanna publically responded in a profanity-filled post.
Posting a rather unflattering image of Jones, she wrote: "LOL!!!! My money got a bad habit of pissing people off!! If you sincerely wanna help little girls more than their own parents do, here's a toxic tip: don't be amateur with your articles, you sound bitter! What's all this about hair and nails and costumes and tattoos?? ....That shit ain't clever!!!
"That shit ain't journalism! That's a sad sloppy menopausal mess!!! Nobody over here acts like they're perfect! I don't pretend that I'm like you, i just live... My life!! And I don't know why y'all still act so surprised by any of it!!
""Role Model" is not a position or title that I have ever campaigned for, so chill wit dat! I got my own fucked up shit to work on, I'll never portray that as perfect, but for right now it's ME!! Call it what ya want!! Toxic was cute, Poisonous Pop Princess had a nice ring to it, just a lil wordy!
"And P.S. my first American Vogue cover was in 2011...APRIL!!! #ElizabethAnnJones.
The singer's post quickly garnered the support of her fans who also expressed their disgust for Jones.
"She looks poisonous and toxic. Lol." One wrote.
Another said: "Who your child chooses as role model is a reflection of you not the role model so how about working on your parenting skills and let RiRi be herself."
READ: Liz Jones, Rape Music and How Rihanna Stole my Daughter