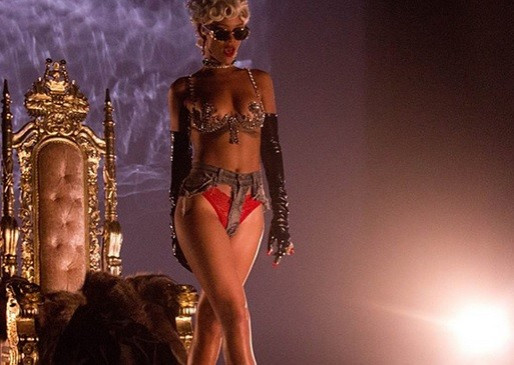 Watch out Miley Cyrus! Rihanna wants her Bad Girl crown back.
Riri has made the former Disney star's raunchy VMA twerking look like a vicar's tea party after releasing the scandalous music video for her summer hit, Pour It Up.
In the song she sings: "Strippers goin' up and down that pole, and I still got more money" - so it was obvious that Riri had to get some practice in.
And the star made sure the promo for the stripper anthem was as authentic as possible.
In the three-minute visual clip, Rihanna dons a blonde wig and diamond-studded bra while twerking aggressively on a gold throne.
Fans are treated to titillating shots of her opening and closing her legs wide rhythmically to the beat, gyrating on the floor and getting her body showered in dollar bills.
Profession pole dancers like Nicole "The Pole" Williams, Secret Moneii and Candy Cane also make an appearance in the sexy promo.
In the behind-the-scenes video released this week, Rihanna told fans: "I bet you've never seen b**ches twerk on water."
The video has left fans divided.
One fan said: "Some people may find this video distasteful but to me its more of a landmark.. This video is against slut shaming. I as a woman find this video empowering and a testament to personal freedom."
Another wrote: "The only difference between her and a prostitute: most prostitutes aren't famous."
The Diamonds singer co-directed the video which was produced by Mike WiLL Made It. The hit is from her 2012 album Unapologetic.
Although the song topped the charts months ago, the singer kept her promise to fans to produce an accompanying video.