Handball made its first appearance in the Olympics at the 1936 Games in Berlin as a demonstration sport but was dropped for the next 36 years, returning once again on German soil in 1972 in Munich. The women's event was introduced four years later.
Rules
A game of handball lasts for one hour, divided into two 30-minute halves with each side made up of six outfield players and a goalkeeper. If two teams cannot be separated after the hour, 10 minutes of extra time are played to try and find a golden goal, with another 10 to follow if the score remains tied. If things are still level after two periods of extra time, we go to penalties. Each side try to beat the goalkeeper with five penalties taken from seven meters out.
Players can hold the ball for up to three seconds without dribbling with it, a millisecond longer and possession is handed over to the other side. Outfield players are not allowed in the goalkeeping area, but are permitted to jump into it with the ball as long as they move it on before they hit the ground. As you can probably guess, no one other than the goalkeeper is allowed to touch the ball with their feet.
Teams win possession by slapping the ball out of opponents' hands, however, snatching if from them will result in the opposition being given a free throw.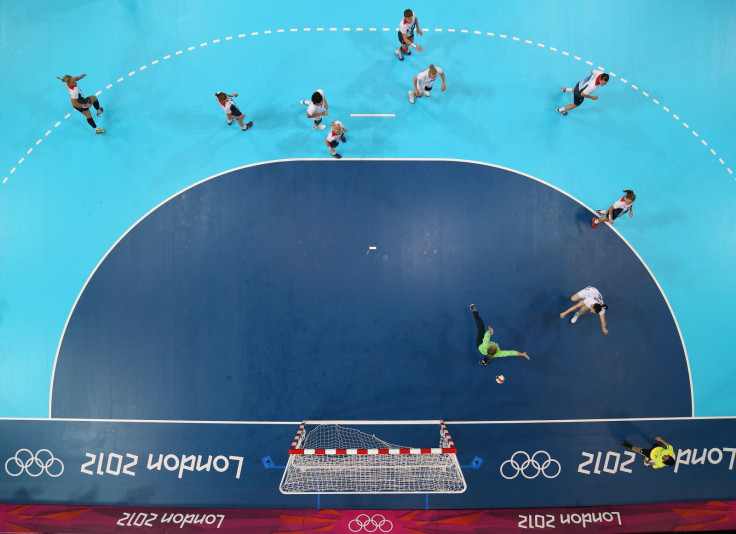 Format
In both the men's and women's events, 12 nations are divided into two groups of six. Each side faces the opposition once, picking up two points for a win and one for a draw with the top four sides qualifying for the knock-out stage. If teams finish level on points, their head-head record is taken into account before goal difference.
From then on, it's a simple knock-out format; quarter-finals, semi-finals, third-place bronze medal play off and the final.
Key terms
Thumb screw: A technique that sees a player flick his wrist in order to put spin on the ball, with hope of it changing the direction of it on the bounce and fooling the goalkeeper.
Fast break: An offensive strategy also used in basketball, breaking away and moving the ball up court as fast as possible, hopefully with the benefit of a numerical advantage.
Lay-up: Handball's own term for a deft lob over the goalkeeper from a high jump.
Athlete to watch: Nikola Karabatic
A gold medal winner with France in 2008 and 2012, 32-year-old Karabatic is seeking his third gold medal in as many Olympic appearances. The two-time world player of the year, who last year made handball's version of a sensational transfer from Barcelona to Paris Saint-Germain, also has three World Championship and three European Championship medals to his name.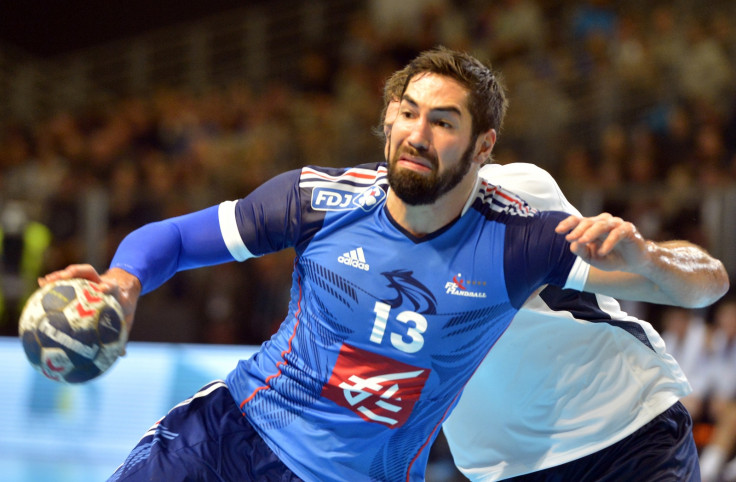 Venue: Future Arena
Another of Rio's temporary structures that will be taken down after this summer's Games and used in the construction for four state schools.
Schedule
Saturday 6 August: Norway vs Brazil, Netherlands vs France, Russia vs South Korea, Montenegro vs Spain, Romania vs Angola, Sweden vs Argentina (women's)
Sunday 7 August: Croatia vs Qatar, Sweden vs Germany, Denmark vs Argentina, Poland vs Brazil, France vs Tunisia, Slovenia vs Egypt (men's)
Monday 8 August: South Korea vs Sweden, France vs Russia, Spain vs Norway, Brazil vs Romania, Argentina vs Netherlands, Angola vs Montenegro (women's)
Tuesday 9 August: Qatar vs France, Germany vs Poland, Tunisia vs Denmark, Brazil vs Slovenia, Egypt vs Sweden, Argentina vs Croatia (men's)
Wednesday 10 August: Brazil vs Spain, Romania vs Montenegro, Russia vs Sweden, Norway vs Angola, Netherlands vs South Korea, France vs Argentina (women's)
Thursday 11 August: Tunisia vs Qatar, Poland vs Egypt, Denmark vs Croatia, Brazil vs Germany, Slovenia vs Sweden, France vs Argentina (men's)
Friday 12 August: Angola vs Brazil, Sweden vs Netherlands, Romania vs Spain, Montenegro vs Norway, Russia vs Argentina, South Korea vs France (women's)
Saturday 13 August: Slovenia vs Germany, Croatia vs France, Denmark vs Qatar, Egypt vs Brazil, Sweden vs Poland, Argentina vs Tunisia (men's)
Sunday 14 August: Montenegro vs Brazil, Sweden vs France, Netherlands vs Russia, Norway vs Romania, Spain vs Angola, Argentina vs South Korea (women's)
Monday 15 August: Poland vs Slovenia, Germany vs Egypt, France vs Denmark, Sweden vs Brazil, Croatia vs Tunisia, Qatar, Argentina (men's)
Tuesday 16 August: Women's quarter-finals
Wednesday 17 August: Men's quarter-finals
Thursday 18 August: Women's semi-finals
Friday 19 August: Men's semi-finals
Saturday 20 August: Women's bronze medal play-off, women's final
Sunday 21 August: Men's bronze medal play-off, men's final