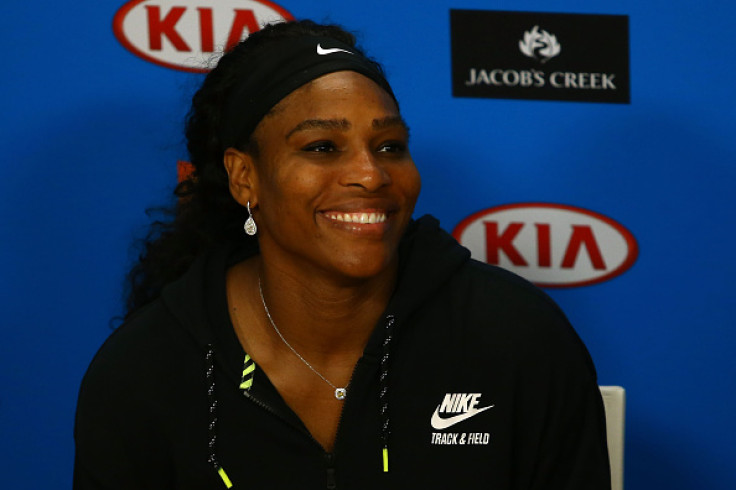 American tennis player Serena Williams is aiming for gold in the 2016 Rio Olympics as she looks to make a comeback after suffering from a flu that limited her playing time following the Australian Open. Williams, who will compete in the BNP Paribas showdown at Madison Square Garden on 8 March (Tuesday), was shocked by Germany's Angelique Kerber in the final of the Australian Open. However, she has put the defeat behind her and will be looking forward to a fresh start.
Speaking to the media, Williams, who is currently ranked world number one, spoke about her future plans, the Rio Olympics and the dreaded Zika virus. "Whenever I lose, it definitely motivates me to do better. There is a lot from that match (in Australia) that I feel like I can improve on and do a lot better. Hopefully, I will achieve that this year," she said, as quoted by Reuters.
"Tennis players never really thought about winning the Olympics, you grew up thinking about winning grand slams but now with tennis in the Olympics, of course you think about it, " she said.
"The Olympics have had such a big impact on everyone. It (the August Games) will probably affect my schedule a little bit and I probably won't be playing as much because I will be in Rio. I am really looking forward to it. I have read few articles about it (Zika) but I haven't been following it a great deal.
"I'm going to have to read a little bit more about it before I can give a proper answer. I definitely think it's something that you want to be careful about and we will see what happens. God willing, I will be in Rio."
The Zika virus outbreak in Rio has resulted in a number of athletes being unsure about travelling to Brazil to participate in the Olympics. However, the Brazilian authorities have assured sports federations around the world that all measures will be taken to combat the plague.
The World Health Organization has already declared the Zika virus outbreak as a global emergency.