Police and armed soldiers in Thailand's capital Bangkok are in a tense stand-off with anti-coup protesters demonstrating against the army's seizure of control of the country earlier this week.
Around 200 protesters defied the army's ban on demonstrations and marched from a shopping centre in central Bangkok, but were met by a line of riot police and heavily armed soldiers, who ordered them to disperse.
There were no reports of violent confrontations but the scene was described as very tense.
Thailand's former prime minister Yingluck Shinawatra is currently being held in a "safe place" by the army after it orchestrated a coup on Thursday – the country's 19<sup>th since absolute monarchy was abolished in 1932.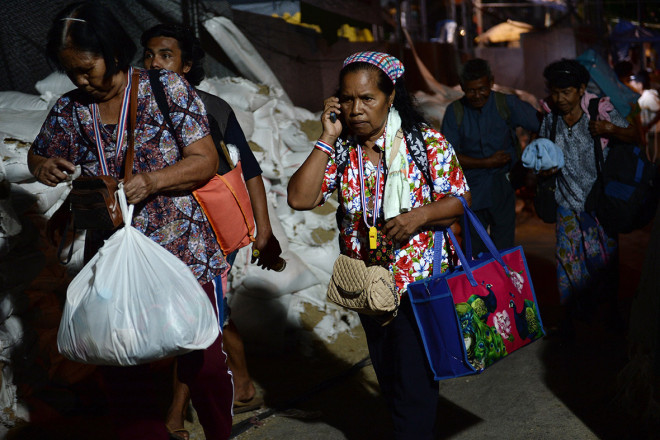 The coup came after the army failed to strike a compromise in a power struggle between Yingluck's government and the royalist establishment, and was intended to "restore order and normality", Thailand's army chief General Prayuth Chan-ocha said.
Chan-ocha, who is Thailand's acting premier, ordered 155 political leaders including the Shinawatra clan and both pro and anti-government protesters to report to him at the Thai army headquarters in Bangkok on Friday.
On Saturday, a further 35 activists and leaders, including prominent academics, were summoned under threat of a two-year prison sentence and a 40,000 baht (£730) fine if they fail to turn themselves in.
Military spokesman Colonel Werachon Sukhondhadhpatipak told the BBC that the purpose of the order was to give detainees "time to think" and "find common ground" regarding their political differences.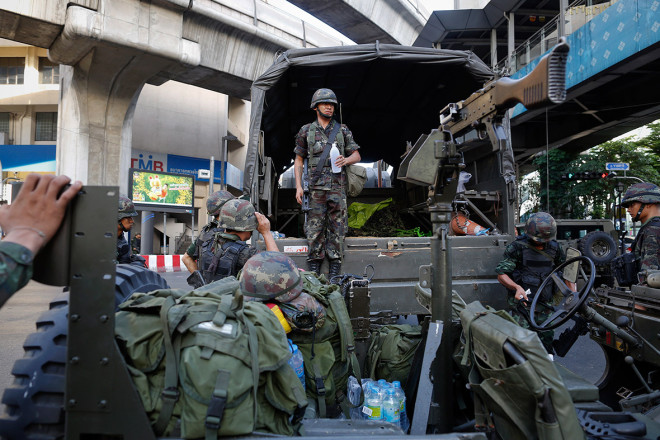 Yingluck's sister and brother-in-law – both of whom have held senior political posts – are also being detained alongside several members of the deposed Pheu Thai government.
The detainees were reportedly moved to different parts of the country to reduce the chances of any resistance to Thursday's coup.
Anti-government protests were sparked in November after Yingluck's Pheu Thai party introduced a proposed amnesty bill which would have paved the way for Yingluck's brother and Thailand's former premier Thaksin Shinawatra to return to the country from self-imposed exile in Dubai and escape corruption charges.
So far, 28 people have been killed and 700 injured in protests, and the government has been locked in a political deadlock, with anti-Thaksin forces calling for the installation of a non-appointed leader to oversee reforms and Thaksin supporters demanding elections.
Since seizing power, the army has said it plans to restore order and institute reforms. The new military administration has also issued an order banning all media from reporting information deemed a threat to national security; criticism of the acting government; or news that could incite confusion, unrest or conflict, according to online news portal Prachatai.