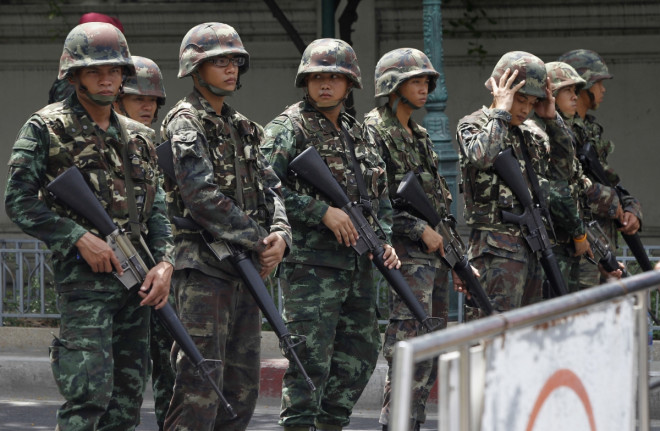 Thai coup leader General Prayuth Chan-ocha has summoned 114 key political and military figures in the country following the army's takeover of power.
The army chief, who proclaimed himself as the prime minister until a new coup-appointed administration is in place, has asked Thailand's senior-most figures to report at the Royal Thai Army auditorium in Bangkok at 10:00am local time on Friday (23 May).
The list includes high-ranking military figures, politicians and protest leaders.
After the talks with the leaders, Prayuth will be meeting foreign ambassadors, attachés and representatives of international organisations to brief them about the situation.
Thai officials including former acting prime minister Niwattumrong Boonsongpaisan have already begun reporting to Prayuth.
The announcement from the National Peace and Order Maintaining Council (NPOMC), of which Prayuth is the chief, said: "As some laws stipulate that 'the prime minister' authorises actions under the law, the NPOMC leader or his assigned individuals will uphold that authority for the time being."
Television channels have been off air but they broadcast the army's occasional announcements. The print media, internet and mobile phone communications have not been affected as yet.
World condemns coup
Meanwhile, the military's coup d'état has attracted sharp criticism from many corners of the world.
"There is no justification for this military coup. This act will have negative implications for the US-Thai relationship, especially for our relationship with the Thai military. We are reviewing our military and other assistance and engagements, consistent with US law," said US Secretary of State John Kerry.
Australia's foreign minister Julie Bishop said her country was "gravely concerned."
"We are monitoring it closely but people need to pay close attention to their personal security and their travel plans," Bishop said.
A statement from the spokesperson for UN chief Ban Ki-moon read: "The secretary-general is seriously concerned by the military takeover in Thailand. He appeals for a prompt return to constitutional, civilian, democratic rule and an all-inclusive dialogue that will pave the way for long-term peace and prosperity in Thailand."
France and Germany have also expressed similar concern.