Rugby Football Union Operations Director Rob Andrew is unconcerned over his future despite chief executive Ian Ritchie's plans to conduct a full review into the governing body's productivity.
Andrew's role as Elite Performance Director was made redundant prior to England's disastrous World Cup campaign and the appointment of Ritchie as the RFU's new CEO.
Following an evaluation of England's controversy-laden tour to New Zealand, and the recent appointment of head coach Stuart Lancaster, Ritchie plans to launch a full review into RFU operations, which could again thrust Andrew under the microscope.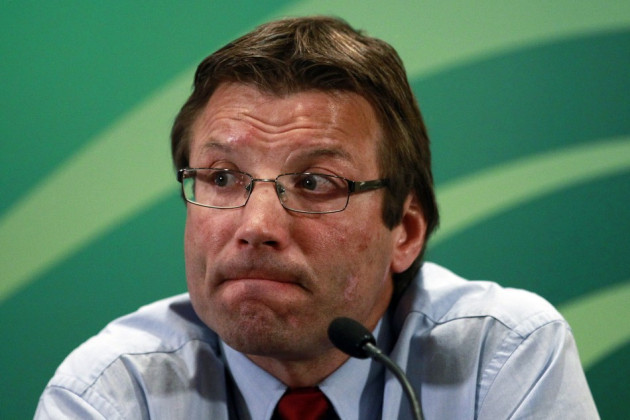 "I'm scrutinised every day so that goes with the territory," Andrew told IBTimes UK.
"It will be down to the RFU to decide what happens. I'm not concerned in the slightest. My record over the last five years is very good in terms of what I do and that's what I've always said people need to understand what my role is and then judge me on that and not judge me on the things perhaps they want to judge me on.
"I'm sure Ian will have a look at all areas of the RFU, that's what he's been brought into do, so no I get judged every day and it hasn't changed over the last 25 years."
The former British and Irish Lions fly-half added: "I've always been very comfortable in the role that I have undertaken.
"Media scrutiny goes with this kind of role, which is fine I don't have any issue with that whatsoever. I would only ask for one thing and that the media scrutiny is objective and fair.
"People within the RFU will judge whether I should be there.
"Sport is about opinions and obviously we had a lot of issues at the RFU last year which were not good but I think we've recovered well, we're in a good place with both the senior team and both of our junior teams and we've got a very strong business at the RFU."
The former Newcastle Falcons Director of Rugby was heavily criticised following England's World Cup performance and subsequent reports of unrest both within the team and the RFU, which resulted in the resignation of head coach Martin Johnson and the sacking of chief executive John Steele.
Under the stewardship of Ritchie, the governing body have made the permanent appointment of Lancaster, and with reviews in the offing, appear committed to building the foundations for a successful World Cup in 2015.
Andrew, who was capped 71 times by England, believes the RFU are finally on the straight and narrow.
"I don't want to go back over the past but there were all sorts of issues last year within the RFU which were very well documented. It was a little bit unstable for a while but we've moved on," he added.
"We've got a great new chief executive in Ian Ritchie who started at the beginning of this year, we've got a very good executive team running the business, we're in very good shape financially and we're in good shape playing wise.
"We've got a good load of young players coming through. Stuart has done a very good job."
Confusion over Andrew's duties in his current role has contributed to calls for him to become a casualty of the RFU's streamlining process, with signs that the new role is producing progression difficult to fathom.
With no responsibility of the England senior team, Andrew admits he's not surprised understanding of his new role has been limited.
"I think there's possibly an understanding of the breadth of the job that I've got in terms of managing the professional game I don't manage the England team, I manage the RFU's relationships and the RFU's business in the professional games in a department that has a budget of about £35m in total.
"There's a huge range of activities that I am responsible for. The England team as we know is now not one of them and it was only a very small part of what I did anyway so there's probably been a lack of understanding of the role and probably a lack of understanding of my job title."
Renewed harmony at the RFU has coincided with an improvement on the pitch, with Lancaster, as interim coach, guiding England to four Six Nations wins out of five and a second place finish behind Grand Slam winners Wales, success which saw the 42 year old appointed on a full-time basis in March.
Andrew formed part of the Professional Game Board panel which led the search for a permanent successor for Johnson, alongside chairman Ian Metcalfe, Sir Ian McGeechan, Conor O'Shea and Richard Hill.
Lancaster begins his tenure as permanent coach with a summer tour of South Africa, and with a World Cup on home soil in 2015, the begining of his four-year contract kick starts an exciting period for English rugby according to Andrew.
"To be fair to Stuart firstly he did a fantastic job in the Six Nations as everyone saw. Secondly he went through a very tough recruitment process and thirdly hopefully the experience on the panel certainly meant that it was a very open and transparent process and he fully deserved being awarded the top job.
"He's starting on a very exciting journey. There's nothing much more exciting than a home World Cup in 2015 so there are a lot of very exciting things happening."