Rob Kardashian has all but confirmed that his new romance with Blac Chyna caused a rift between him and his family. In a post on Instagram, Kim Kardashian's little brother hinted that blood was not thicker than water when matters of the heart were concerned.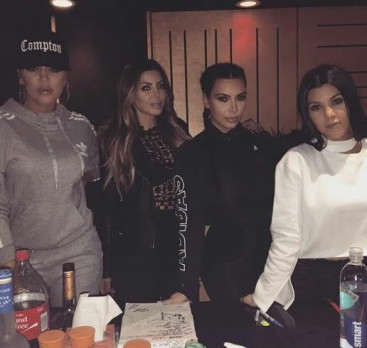 The sock entrepreneur finally acknowledged that he riled his relatives, telling his 4.8 million followers: "When the p---y good but your family don't like her so you drop your family and become an orphan." The 27-year-old wasn't pulling any punches – even if it was just a joke – and added salt to the wound by captioning the quote with a couple of face with tears of joy emojis.
Although he was able to make light of the situation, he was soon inundated with comments from fans slamming him for being disrespectful to his family. It was recently reported that despite their fraught relationship his mum Kris Jenner helped him purchase a new home in the same Calabasas neighbourhood.
Earlier in January, Blac Chyna went public with their romance by posting a snap of her snuggling into Kardashian's tattooed arm on Instagram. It may not have irked his family if his sister Kylie wasn't dating Blac Chyna's former fiancé Tyga. In addition Kylie's relationship with Tyga, who is eight years her senior, had already been the catalyst of a number of feuds – including a war of words between Blac Chyna's best friend Amber Rose and Jenner's older half-sister Khloé Kardashian. If things were not complicated enough, Kim Kardashian also used to be best friends with Chyna.
Fans invested in the personal lives of the Kardashian/Jenner clan considered it the ultimate betrayal, and Khloe expressed her rage by posting a photo of her sisters and herself with family friend Larsa Pippen in a studio standing united. The caption read: "Never go against THE family. I love Yeezy's studio speeches," suggesting that they are willing to cut off anybody that betrays the family – even their brother Rob.
Kardashian's recent post comes days after Khloé took to Twitter, to admit that she missed having her brother in her life.