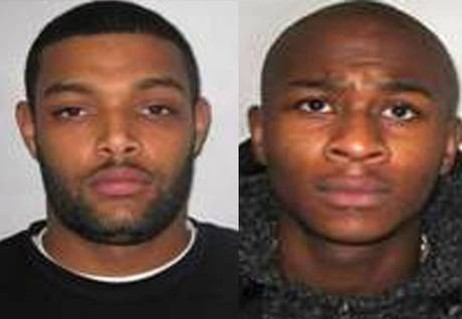 Three muggers who targeted young London mothers on the street, throttling them from behind in front of their terrified children and robbing them of jewellery, have been sentenced to a total of 46 years in jail.
The gang stalked and attacked eight women - one of whom was seven months pregnant and pushing a pram containing her 17-month-old son - in the Battersea and Clapham areas of south London. The area is known locally as "Nappy Valley" owing to the number of families with small children who live there.
The women were choked from behind, forced to the ground, then kicked and punched.
One of the victims had to undergo reconstructive surgery after being attacked.
The attacks took place between October 2010 and March 2011 and were all witnessed by the terrified victims' children.
Emma Enticott, one of the victims, was accompanying her three children, aged five, three and two, home from a party when she was assaulted from behind, the court heard.
"He had his hands around my neck squeezing and I just thought 'go floppy, play dead'," she told Kingston Crown Court. "I pretended I was unconscious but he just kept going, squeezing the life out of me. I could hear my kids screaming for their lives beside me.
"Finally when he thought I was a goner he laid me out on the pavement and then I whacked him. People have since told me there was someone else jumping on my body and holding me while the main guy grabbed my hand and shouted, 'Give me your wedding ring, bitch!'
"Thank God my husband heard the noise and chased them down to their car."
After the robbery the gang sold the jewels in Hatton Garden, central London, and spent the money on shopping trips for their girlfriends in the Westfield Shopping Centre, west London.
Injured and traumatised
"The offenders departed, leaving their victims injured or traumatised or both, then took the stolen jewellery to Hatton Garden to sell it and then on to shopping trips where their cash proceeds would be spent. That reveals all too clearly that the motive was personal greed," said Judge Richard Southwell.
Perrie Williams, 26, of Wandsworth Common, Christopher Byom, 30, and Anton Lord, 33, both of Clapham, were all found guilty.
Byom was sentenced to 21 years and Williams to 17 years after being convicted of conspiracy to rob in May. Lord was ordered to serve eight and a half years as he had earlier pleaded guilty to the same charge.
Byom asked for 257 other offences to be taken into consideration, including 70 robberies.
DC Dan Williams, of Wandsworth Robbery Squad, said: "These are some of the most dangerous people I have come across."