Borussia Dortmund striker Robert Lewandowski will join Manchester United this summer, according to Poland manager Franciszek Smuda.
The 23-year-old scored 22 goals for Dortmund last season and is expected to lead the line for the co-hosts at Euro 2012.
According to Smuda, Lewandowksi will be joined by club teammate and international captain Jakub Blaszczykowski in the Premier League, while Lukasz Piszczek is a target for Real Madrid.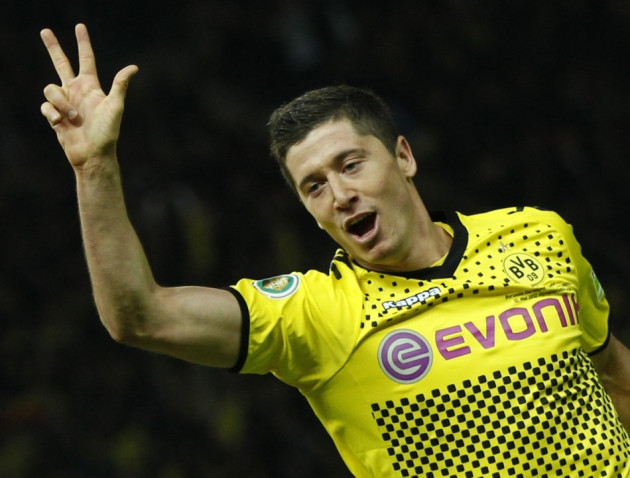 "Lewy is going to Manchester United, Jakub also somewhere in England, Lukasz Piszczek to Real Madrid," he said. "They have a goal and they want to grow."
United confirmed the signing of Lewandowksi's teammate Shinji Kagawa earlier in the week, and the Polish international is set to become the second addition from the German double winners this summer.
According to the striker's agent last month, Lewandowksi had, like Kagawa, rejected a new deal at Dortmund, and that United were among the suitors for the 6ft Pole.
"I can confirm that the (new contract) offer of Borussia Dortmund is insufficient," his agent Maik Barthel told Bild.
"I am also able to confirm an interest of Manchester United in the services of Robert Lewandowski."
Dimitar Berbatov and Michael Owen are both set to leave United this summer, after Sir Alex Ferguson's side missed out on the Premier League title on the final day of the 2011/12 season.
Injuries to both Danny Welbeck, who is expected to lead the line for England at the European Championship, and Javier Hernandez, led to United's front line being much changed last season.
Furthermore, Lewandowski's goal-poaching demeanour, as well as physique, would ideally suit United's style of play, which relies on service from wide areas from the likes of Antonio Valencia and Ashley Young.
Having missed out on goal difference in the Premier League title race to Manchester City, Ferguson will be keen to make strides in the transfer window this summer, to prevent the Old Trafford club's closest rivals from cruising to back-to-back league successes.
United fans will get the ideal opportunity to assess their potential new recruit during Poland's opening game of Euro 2012 against Greece on Friday.