Zimbabwe's President Robert Mugabe has resigned, according to reports. The 93-year-old leader reportedly left office on Tuesday 21 November after the country's ruling party Zanu PF threatened it would impeach him.
Mugabe, who has been in power for 37 years and was the world's oldest head of state, announced the decision in a letter which was read aloud in the Zimbabwean parliament.
"My decision to resign is voluntary on my part and arises from my concern for the welfare of the people of Zimbabwe and my desire for a smooth, non-violent transfer of power," Mugabe wrote.
The parliament erupted in cheers as the speaker announced the leader's resignation "with immediate effect", AP reported.
The resignation comes as tensions mounted in the country after Mugabe fired former vice president Emmerson Mnangagwa earlier in November.
Mnangagwa's dismissal sparked political turmoil in the country, starting with the army temporarily taking over the government to "target criminals" around Mugabe. The military, which insisted it did not carry out a coup, engaged in talks with the president in order to give him a "dignified exit".
Mugabe, who has been the leader of Zimbabwe since 1980, refused to stand down. In a televised speech on Sunday – in which people expected him to formally resign – he vowed to presideover next month's Zanu-PF congress.
The increasingly isolated leader was fired as the head of Zanu-PF and urged to resign by Monday morning, a deadline he missed.
Mugabe's wife, Grace, was also expelled from the party, where she retained a certain degree of power among the Zanu PF's G40 faction.
Mnangagwa has been installed as the party new leader and candidate for the 2018 general elections. Ruling party chief whip Lovemore Matuke told AP that Mnangagwa would take over as party leader within 48 hours. He added that Mnangagwa, who fled the country after being fired, was "not far from here."
Following Mugabe's resignation, jubilant Zimbabweans took to the streets in celebration. During Mugabe's reign, the economy steadily declined. Zimbabweans today are on average 15% worse off than they were during the 1980s.
Jeffrey Smith, analyst and executive director of Vanguard Africa, told IBTimes UK: "It's a tremendous opportunity for the people of Zimbabwe to finally, after decades of callous misrule and brutality, to reclaim their country."
"Tough and challenging days surely lie ahead. But, my experience working in the country and working with activists over the years tells me that Zimbabweans are surely up to the task," he said.
UK Prime Minister Theresa May said: "The resignation of Robert Mugabe provides Zimbabwe with an opportunity to forge a new path free of the oppression that characterised his rule. In recent days we have seen the desire of the Zimbabwean people for free and fair elections and the opportunity to rebuild the country's economy under a legitimate government.
"As Zimbabwe's oldest friend we will do all we can to support this, working with our international and regional partners to help the country achieve the brighter future it so deserves."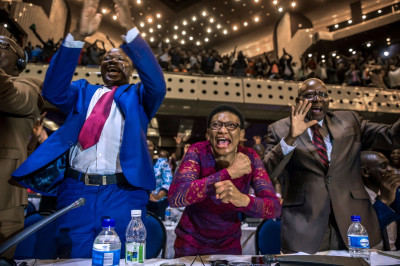 The US embassy in Harare described the resignation as a "historic moment" and congratulated Zimbabweans who "raised their voices and stated peacefully and clearly that the time for change was overdue."
"I am the happiest person under the sun right now, because I always believed that Mugabe was going to step down in my lifetime and it has happened," human rights activist Linda Masarira told the BBC.
"And now going forward it's time for the opposition to reorganise and ensure that we will have a government that cares for the people. And everyone has to be included," she added.
Zimbabwean politician David Coltart tweeted: "We have removed a tyrant but not yet a tyranny. But we thank God for this day."