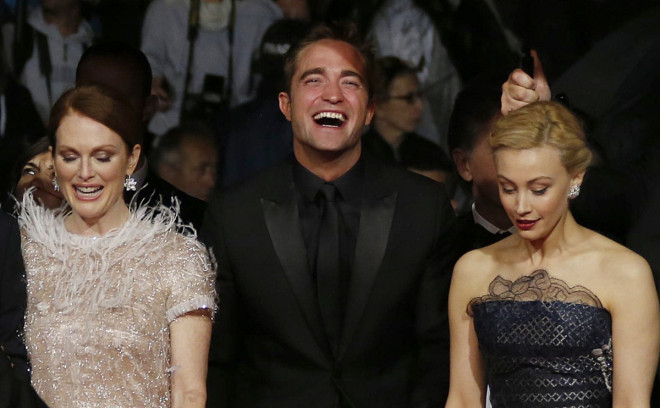 Robert Pattinson is hogging all the limelight at the Cannes Film Festival this year, and it has nothing to do with Kristen Stewart.
The actor's 'car sex' with co star Julianne Moore in his upcoming movie is the most talked about scene at the French Riviera.
In the movie, Pattinson plays a limo driver who has sex with an older actress whose stardom is fading. The actress's role is played by 53-year-old Julianne Moore.
The Twilight star is promoting his upcoming movie Map to the Stars at Cannes, a dark comedy directed by David Cronenberg.
Pattinson had earlier worked on another Cronenberg movie Cosmopolis, in which the actor had some steamy car sex scenes with 50-year-old Juliette Binoche.
The 28-year-old star was attending a press meet when the 'car sex with older women' question popped up.
When asked how he would compare his sex scenes with Moore to that with his Cosmopolis co-star Binoche, Pattinson blushed red as he was sitting next to Moore in the conference.
"Who was the better passenger?" was the question.
"They are both like sevens," said the giggling actor. "Obviously, Julianne," he continued after a laugh. "It was a wonderful experience, just extremely sweaty," he added sportily.
"There's not enough space to really do it. So she's banging her head on the ceiling. It ended up being kind of funny. But it's supposed to be kind of erotic," the actor said.
Most of Cronenberg's movies are famous for their car sex scenes. His movie Crash which won the Special Jury prize in Cannes in 1996, was a psychological thriller based on car crashes and sex.
"'Crash was suppressed by Ted Turner, because he was in control of the distribution of it, because he said if people saw that movie, they would probably have sex in cars," Cronenberg told Fox News.
"And I said, you know there's an entire generation of Americans who have been spawned in the back seat of a 1954 Ford. So it's not like I invented sex in cars."