Robin Thicke Lambasted After Admitting Abusing Drugs and Lying About Co-Writing Blurred Lines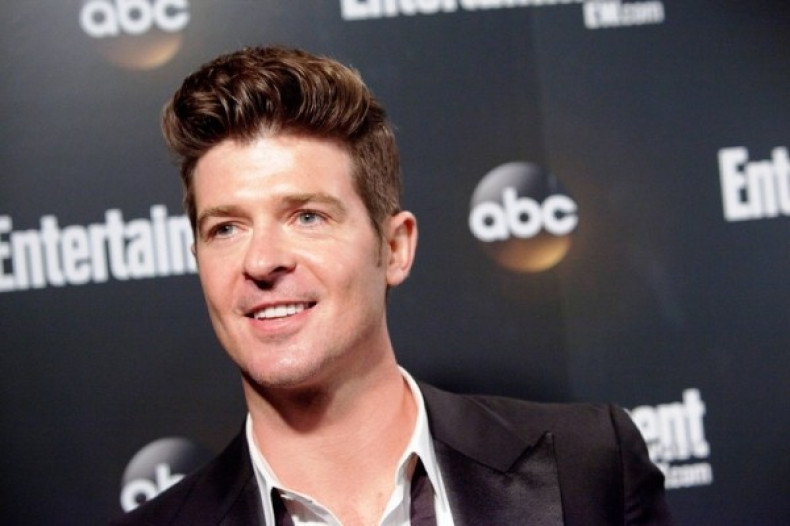 Robin Thicke's year has officially gone from bad to worse.
His estranged wife Paula Patton wants a divorce, he has been branded a misogynist pig who promotes rape and now he has admitted in court to using drugs and lying about co-writing the 2013 smash Blurred Lines.
The 37-year-old star made the confession during his deposition as part of an ongoing legal dispute with Marvin Gaye's estate over whether or not the summer hit copied beats and rhythms from the late Motown singer's 1977 track, Got to Give It Up.
Lies and deceit
In his sworn testimony, revealed for the first time in a Los Angeles federal court on Monday, Thicke claimed, it was producer Pharrell Williams who really wrote the song because he arrived to the studio too intoxicated.
"I was high on Vicodin and alcohol when I showed up at the studio," he said. "When we made the song, I thought I wanted — I — I wanted to be more involved than I actually was by the time, nine months later, it became a huge hit and I wanted credit.
"But the reality is, is that Pharrell had the beat and he wrote almost every single part of the song."
Quizzed about why he told media outlets including Billboard and GQ that he and Williams worked together and were influenced by Gaye, Thicke said he was overcome with envy.
"After making six albums that I wrote and produced myself, the biggest hit of my career was written by somebody else," Thicke said. "And I was jealous and wanted some of the credit."
In his own deposition, Williams' said that although he was in the "driver's seat" and the song was his creation, without Thicke's vocals "It wouldn't be what it was — what it is today."
He explained: "Because it's the white man singing soulfully and we, unfortunately, in this country don't get enough — we don't get to hear that as often, so we get excited by it when the mainstream gives that a shot."
Social media backlash
Fans has since taken to social media to lambast Thicke for throwing Williams under the bus.
"Who needs enemies when you have a friend called Robin Thicke," one unimpressed critic said.
Blurred Lines, which was one of the best-selling singles of 2013, topped charts across the globe following its release. But despite its commercial success, the collaborative effort from Thicke, Pharrell Williams and rapper T.I, faced backlash for degrading women and condoning rape.
At the height of the controversy Thicke defended the cultural phenomenon as a "feminist movement".
"It's supposed to stir conversation, it's supposed to make us talk about what's important and what the relationship between men and women is, but if you listen to the lyrics it says 'That man is not your maker'. It's actually a feminist movement within it."