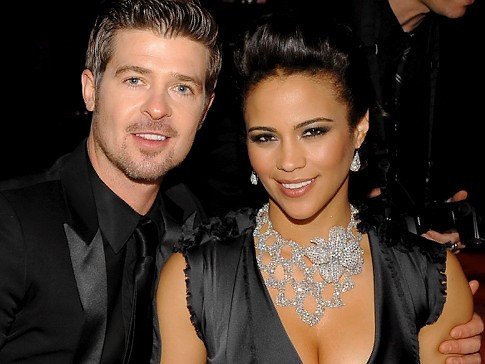 She may have snubbed his previous attempts to win her back but it looks Robin Thicke is not quite ready to give up on his marriage to Paula Patton.
The Blurred Lines hitmaker is planning to name is forthcoming album 'Paul' after his estranged wife to prove how much he loves her.
Thicke has dedicated a number of tracks on the album to his childhood sweetheart, who called time on their marriage in February.
In his first single, called "Get Her Back," the father-of-one confesses his wrongdoings.
He sings: "I never should have raised my voice or made you feel so small/I never should have asked you to do anything at all. I should have kissed you longer/ I should have held you stronger. And I'll wait for forever for you to love me again."
Thicke and Patton tied the knot in 2005 after years of dating and in 2010 had a son, Julian.
But following the global success of his massive hit cracks started to appear in their marriage and she called time on their eight-year marriage.
Patton, who allegely felt "utterly disrespected" by his raunchy on stage antics with Miley Cyrus at the MTV VMA's and a rauncy photo with socialite Lana Scolaro, recently hinted that she may be up for a reconciliation during an interview with Vanity Fair.
"We've known each other since we were teenagers," she told the publication. "All I can tell you is there's a deep love there—always was, and always will be. He wasn't my first kiss, but he was my first lots of other things."