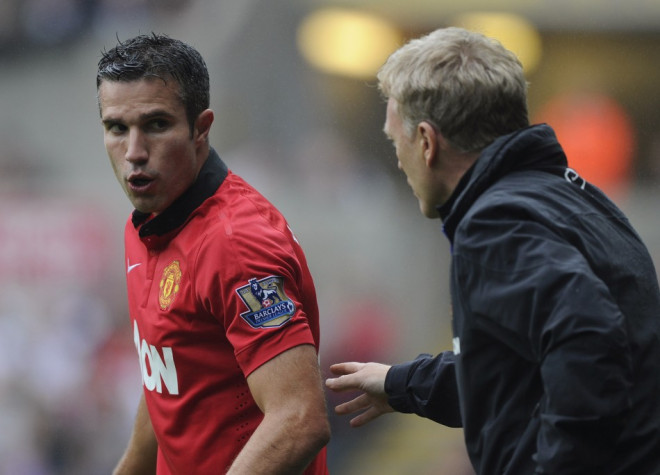 Manchester United striker Robin van Perise has slammed his team-mates for making his game "more difficult" for the Red Devils.
The 30-year-old has managed 11 goals from 16 league games under David Moyes this season. However, United have struggled in all competitions this season and it includes a 2-0 defeat at the hands of Olympiakos in the first-leg of the Champions League fixture away from home.
The former Arsenal skipper claims his club team-mates are in the area where he prefers to play. Van Persie admitted that the situation has forced him to stop playing his natural game and adapt a new style.
"Sometimes I try to find ways to do more but in the areas I wanted to play, my team-mates were often there. This makes it difficult for me. Then I have to change my tactics to suit my team-mates, and play outside my zone. It's a pity," Van Persie explained.
"We played too slow and could therefore create little. I rushed that shot. That's a shame because I don't get a lot of chances so when you get one, you have to score," he added.
Despite his criticism on United team-mates, Van Persie has refused to blame David Moyes for the Premier League champions' poor display this season.
Van Persie claims that United do not have luck on their side and has urged his team-mates to do much better in the upcoming fixtures.
"He's working hard at it, and so are we. Sometimes we play well, but not all the time. We don't have luck on our side. It's easy to point the finger at someone, but I'm not like that. We have to do better," the former Arsenal striker stressed.
United are on the verge of being knocked out of the Champions League after they failed to score the much-needed away goal in Greece. They need to score minimum three goals in the return leg and restrict Olympiakos from finding the back of the net.
In the league, Moyes' side are sixth in the table with 45 points from 27 games. United are level on points with seventh place Everton, who still have a game in hand.