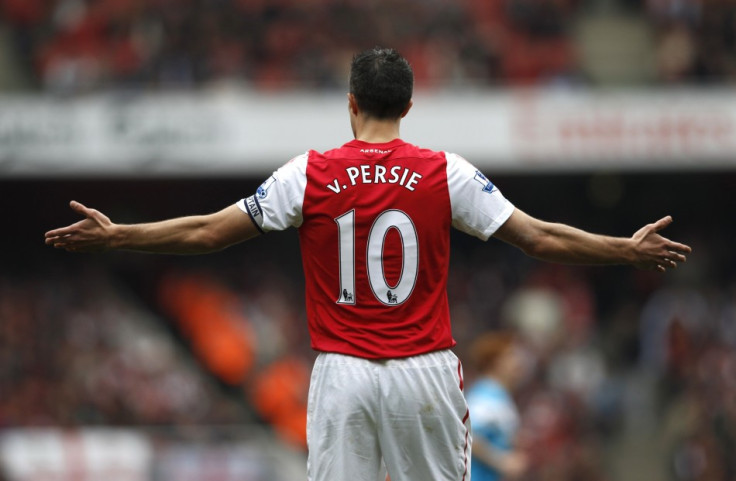 Arsenal centre back Johan Djourou believes that Robin van Persie is as good as Lionel Messi and Cristiano Ronaldo, as the striker continues to star for the Gunners.
Van Persie has scored 15 goals so far this season, with the Dutchman averaging at least a goal a game so far in the Gunners' campaign.
In fact, van Persie has scored in five of Arsenal's last seven matches, and in four out of five of those times he's scored at least two goals.
And Djourou believes that the 28 year old is now a world-class striker, up there with the likes of Messi and Ronaldo.
"I don't think there is a hotter striker in Europe at the moment," he told Talksport. "He is up there with Messi and Ronaldo, he is a great player and a great captain.
"The guy is so talented and he is showing it every week. It is amazing to see him doing all that but he deserves it because he has had problems before with injury. It is good to see him fit now."
Arsenal have relied heavily on van Persie's form to get them back up the Premier league table and challenging for trophies once more, after a poor start to the season. And with the star's contract running out in under two years at the north London club, Arsene Wenger is pushing for talks to try and sort the situation out before transfer rumours start to circulate.
But Djourou insists that the issue of contract talks will not distract the Arsenal squad from trying to end their six season long trophyless tilt.
"For me [van Persie's contract situation] is not the main focus, the main focus is to have him fit and have him scoring goals for the team and to keep on winning games," he said.
"That is the thing they have to discuss between him and the club but for me as a player it is just to keep it the way we are and keep fighting for each other."
Djourou is also going to come under speculation as he enters his own contract discussions with the club, with the 24-year-old's deal at Arsenal also running out in 2013.
And as Theo Walcott and Andrey Arshavin are also running low on their agreements with the club, the next transfer window will be particularly important as Wenger moves to convince the four that their long term future should be with the Emirates.