Iconic British TV show Robot Wars is back on the BBC after 12 years, and it looks better than ever, with upgraded house robots and a proliferation of unique and deadly fighting machines from a whole new generation of talented robot-makers.
IBTimes UK recently caught up with Ed Hoppitt, one of the members of Team Storm, the runners-up of the last series of Robot Wars in 2004, whose robot Storm2 went on to win the world championships.
The team has been invited back for the new season of Robot Wars and they are determined to show that although over a decade has passed, Storm2 is still a heavy weight contender that the other teams should fear.
Same robot, new tricks
Team Storm could have simply shown the same ingenuity that it displayed in the last series and built a brand-new robot, but instead it decided that Storm2 should return. Similar to the much-loved and vicious-looking house robots, it instead receive upgrades in line with current robotics capabilities.
To that end, Storm2, which has cost £25,000 ($33,000) over the last 16 years, now has new drive motors, but it is down on power so it is slightly slower than before. Nevertheless, what it has lost in power it makes up for in software that is able to analyse different parts of the robot to constantly send back crucial data in real-time on how hot the drive motors and the weapon motors are.
With improved software sending the data back to the controller, Team Storm can instantly see if they can increase the power and speed of Storm2 or if they need to throttle back before something breaks.
"We use software to change how we configure the robot, how we fine-tune the robot. Most people realise that something's wrong with their robot at the point that smoke comes out, but we have the advantage that we've got the data available on the transmitter we're holding in our hands," Hoppitt tells IBTimes UK.
"There are a couple of occasions in the current series where having the data made a big difference to us – testing and development of the machine using the data has saved us probably £1,000 in motors because we can stop before we break something, fix it and then carry on."
The team has also used computer-aided design (CAD) software to design components for Storm2, which are then sent to engineering firms to produce.
Since the CAD software only works on Windows PCs, and the team were primarily using MacBooks, Hoppitt, who works for software firm VMWare as an IT consultant, used VMWare Vision to take the Windows application and make it work on his MacBook.
New cooling system
Team Storm has also devised a new cooling system for Storm2 in order to keep the robot running smoothly as it causes havoc in the arena.
"The motoring drivers were becoming so hot that they were actually cooking, so instead of trying to pack the robot with fans and cooling systems, we decided to pre-cool it," he says.
"For the new series, we packed in dried ice to cool them down, and then borrowing from F1 technology, we got a leaf blower, the same thing they use to cool F1 cars down, filled it with dried ice and we plugged it in at the top, so while the robot was being wheeled to the arena, high speed super-cool air was being blown into the robot, and the whole thing was -5 to -10 degrees Celsius.
"So when the battle was over, coming out of the arena, the motors were only 30 degrees Celsius rather than 60 degrees Celsius."
Storm2 will return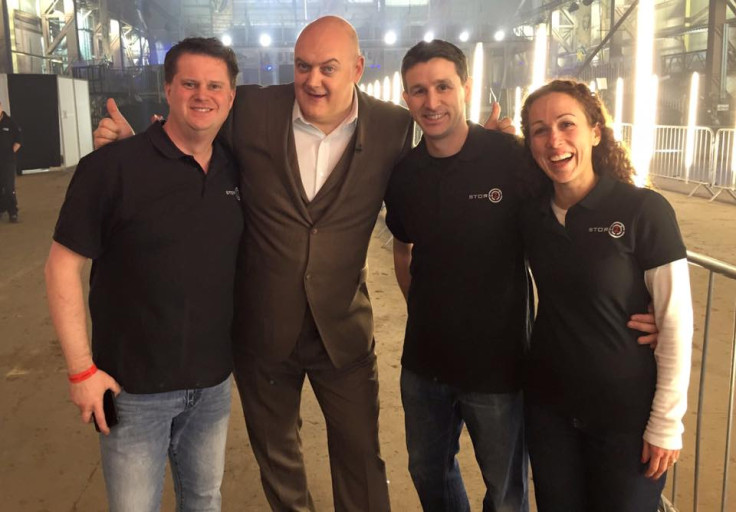 Team Storm won't tell us how they did in season 8, but they say they have put on a good showing. Hoppitt is incredibly impressed by the new talent in the competition and says that the Robot Wars inventor community is as tight-knit as ever.
"There was a team that got completely trashed in the arena this season, to the extent that when they came out, they didn't think they could repair their robot and were on the verge of giving up. I took their team leader and showed her all the robotics people in the pit, and told her, 'Here are a hundred people who would happily help you fix your robot in time,' and that's what we did," says Hoppitt.
"We asked people to help and at one point there were 20 people crowding around the robot fixing different parts or taking different bits away to repair and then bring them back. It might look aggressive on TV, but behind the scenes we're a wonderfully supportive community."
While the heavyweight robots featured in the latest season are clearly much more expensive than their predecessors − in the early 2000s, the robot Chaos 2 cost just £250 to make − Hoppitt thinks that it's still well worth a try.
For new Robot Wars fans who want to get into the sport, Team Storm advises that you attend live events and first start off with featherweight robots weighing 13kg instead of the heavy eight fighting machines on the show that weigh 100-110kg each. There are lots of build diaries online that other Robot Wars teams have made available as well.
Team Storm will make its debut on Week 4 of Robot Wars, which will be broadcast on BBC 2 at 8pm on Sunday 14 August 2016.