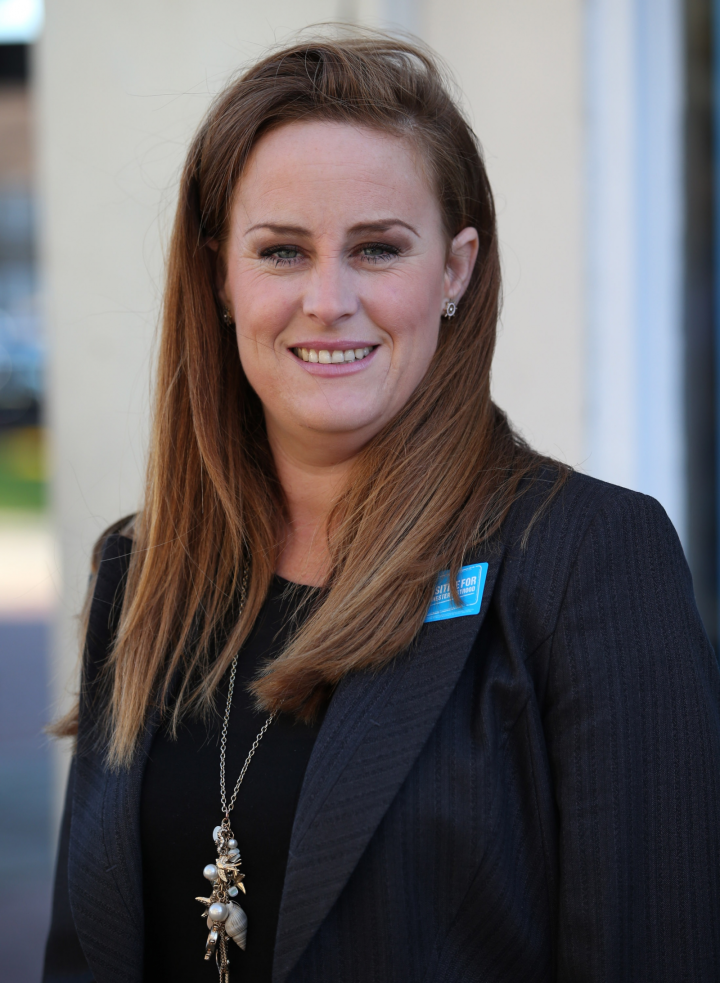 A Tory candidate selected by the party to stand in the Rochester and Strood by-election is an hardcore anti-Israel activist.
Kelly Tolhurst, who won an open primary to fight in the by-election next month, has urged supporters on her Twitter account to boycott Israeli businesses, placing her at odds with her party, which has refused to support boycotts.
Local businesswoman and councillor Ms Tolhurst has also re-tweeted messages from the Free Gaza Movement, reports the Jewish Chronicle.
In tweets, Ms Tolhurst calls for Israeli companies SodaStream and Ahava to be boycotted, and retweets a list of nine of brands that can be boycotted "to hold Israel to account for its violation of international law."
Other re-tweets link to media reports of the Israeli bombing of UN schools and hospitals in the Gaza Strip. All date from the period of conflict between Israel and Hamas in July this year.
She also backs a petition calling for David Cameron and foreign secretary Philip Hammond to send a Royal Navy ship to Gaza to help with humanitarian efforts.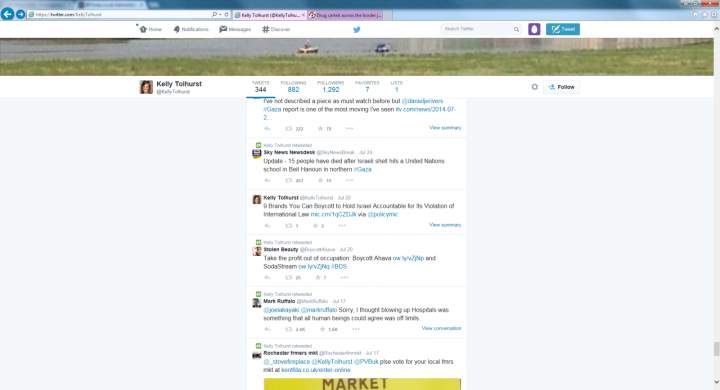 In November 2012, she said she was "disappointed" that the UK had abstained during a UN vote on Palestinian statehood.
Cameron has publically stated his opposition to Israeli boycotts. In a speech to the Knesset in March, he said: "To those who do not share my ambition, who want to boycott Israel, I have a clear message. Britain opposes boycotts, whether it's trade unions campaigning for the exclusion of Israelis or universities trying to stifle academic exchange.
"Delegitimising the state of Israel is wrong. It's abhorrent. And together we will defeat it."
Cameron and Hammond were also criticised for not condemning Israel in stronger terms for its bombardment of Gaza during this year's conflict.
Ms Tolhurst was chosen to contest the seat after MP Mark Reckless defected to Ukip in September.
The latest polling shows Reckless poised to retain the seat.
Experts believe that it is vital for Cameron's Conservatives to holds the seat if they are to roll back the wave of Ukip support ahead of the general election.
In response, Ms Tolhurst told IBTimes UK: "I obviously condemn violence on both sides and agree with the Prime Minister that it always wrong for anyone to target civilians.
"I am personally committed to the two state solution; and think that the priority for our country is to work with our international partners in the region to ensure that a lasting peace is firmly established in Israel and Palestine."