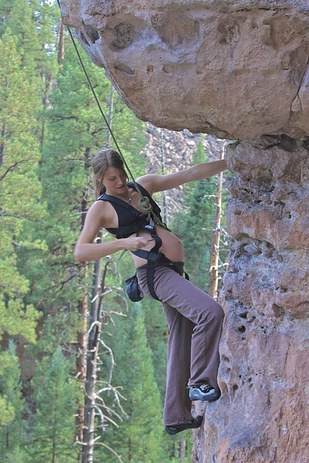 Weak hearts are advised not to view the video showing a toddler scaling a seven-foot wall with no support or safety harness.
Where other babies may own rocking horses and the like, 20-month-old infant Ellie Farmer from Arizona, got a climbing wall in her nursery and sure enough she took to it very fast. Ellie began scaling walls when just eight months old.
Ellie probably inherited the rock climbing skills from parents Rachel and Zak. In fact, Rachel was at it till three days before childbirth.
The bouldering style picked up by Ellie is where no harnesses or ropes are used, and the climber pulls himself up using small juttings in the rock face.
A thick pad below ensures that Ellie is never hurt, says Rachel.
Ellie may be small but Rachel says she is very strong and can hang onto any bar for at least 30 seconds.
The muscles acquired are a direct result of the countless hours of practice.
Rachael emphasises that Ellie's passion for climbing is all hers. "We provide the safest environment we possibly can for our little monkey while continuing to support her love for climbing," she told Today.com
Ellie has already earned the nickname of Little Zen Monkey for her calm strength.
A Peurto Rico man made news recently when he went surfing with his nine-month-old across rough waves.
Baby yoga was also popularised in Russia with proponent Lena Fokina spinning babies in what she called beneficial yoga.
Watch Ellie scale a wall in the video below.