Philippine President Rodrigo Duterte, who is facing strong criticism for the aggressive drug war launched in the country, said he does not care about the consequences. He accused the previous administrations of not doing enough to control the problem, which has now reached "pandemic" proportions.
He was speaking at the oath-taking ceremony of newly appointed government officials in Malacañang — the president's official residence as well as workplace — on Monday (15 August). Forty two officials took oath during the ceremony that was presided over by the president.
Duterte, who has ordered "shoot-and-kill" instructions to the country's security forces as well as civilian citizens, told the gathering he does not mind being held responsible for the deaths of the drug criminals. He reiterated his promise of rooting out the menace within his presidential term of six years. He has earlier threatened to impose martial law if the Supreme Court came in the way of his drug war.
"I might come out as the antagonist here. Maybe (my hands will be) soaked with blood, but there is no way to stop it," Duterte was quoted by Philippine Daily Inquirer as saying.
"There will be no stopping of momentum until I have destroyed the apparatus. I keep on repeating (this). I will give you a clean government then I will crush the drug problem and criminality even if I have to soak my blood. So be it," he noted.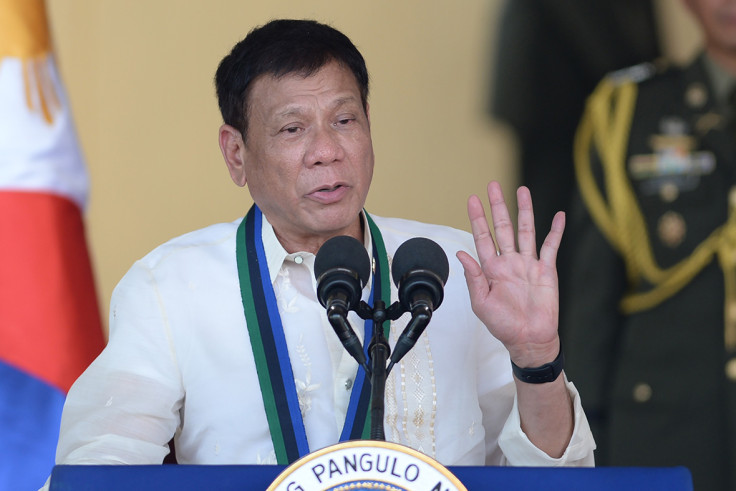 Despite being criticised for the scores of extrajudicial killings that have taken place in the country since he took over in June, Duterte has maintained that the drug problem needs to be controlled at any cost. According to him, the issue has grown so large due to the failure of previous governments.
"I have to control the drug problem because if I do not interdict this problem now in this generation, it will be difficult after six years.
"I do not want to pull my own chair (but) I was just thinking that if I did not become president, given the contamination of the police into the industry, the Philippines would really be miserable," the president said.