Controversial leader Rodrigo Duterte has been sworn in as president of the Philippines. The 71-year-old took oath in English with his 12-year-old daughter, Veronica, by his side holding the Bible. Duterte, former mayor of Davao city, and who is nicknamed "punisher", vowed a war against corruption and crime, and said it will be one of the major items on the government's agenda.
"The ride will be rough but have the courage and join me just the same. Together, shoulder to shoulder, let us take the first wobbly steps in this quest," said Duterte after taking over as the 16<sup>th president of the country.
The ceremony took place at Riza Hall in Malacanang, Manila. Along with Vice President Leni Robredo, he will rule the archipelago nation of 98 million people for the next six years.
During the 15-minute inaugural address, which evoked a loud applause, he said: "Love of country, subordination of personal interest for the common good, concern and care for the helpless and impoverished – these are among the laws and faded values that we'll seek to recover and revitalise as we commence our journey towards a better Philippines."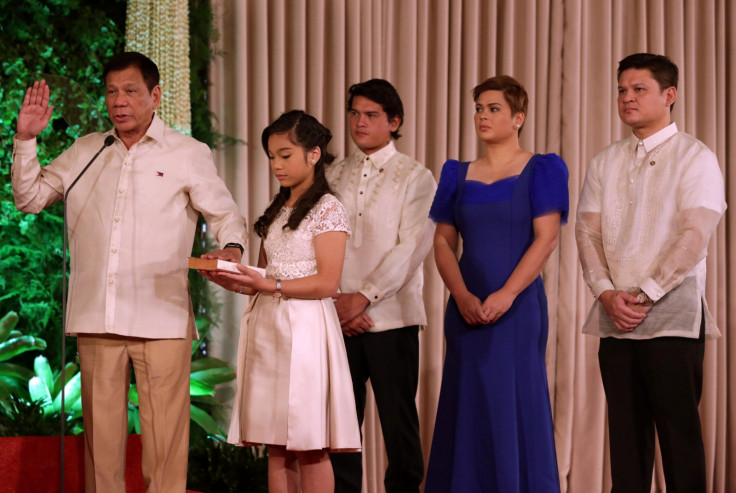 Duterte flew to Manila just for the inauguration ceremony from his southern base of Davao, where he spent most of his time since the election results.
Duterte rode on an anti-corruption and anti-crime wave to election victory. Duterte, whose election campaign was marked by the use of expletives, has publicly advocated extrajudicial killings of suspected lawbreakers. Sending out a sharp warning to his critics, he said: "You mind your work and I will mind mine."