Rohingya Muslim children's drawings depict horrific acts of ethnic cleansing by Myanmar military
Young Rohingya refugees' drawings are filled with traumatic scenes such as people being shot or burned alive by the military.
Children make up about 60 percent of the more than 430,000 people who have poured in to Bangladesh over the last four weeks – Rohingya Muslims fleeing terrible persecution in Myanmar. They have seen family members killed and homes set on fire, and they have endured dangerous journeys through forests and on rickety boats. Sometimes they've done it alone. Unicef has so far counted more than 1,400 children who have crossed the border without a parent.
The government of Buddhist-majority Myanmar rejects accusations of ethnic cleansing, saying it is fighting terrorists. But the drawings of some of the children at one of the camps in Bangladesh are filled with traumatic scenes such as people being shot or burned alive by the military.
Twelve-year-old Kurshida drew a helicopter dropping bombs, and the military setting her home on fire and cutting her sleeping niece's throat with a machete.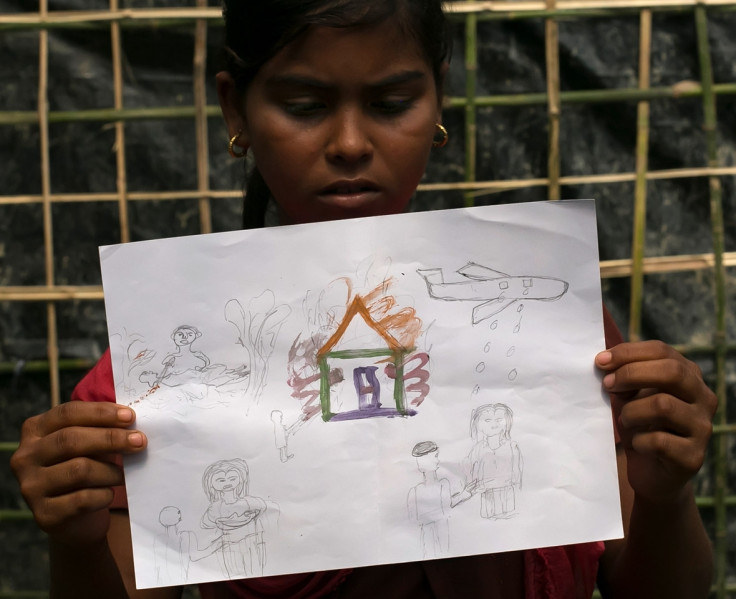 Thirteen-year-old Nurul Haque drew the military setting homes on fire and stomping on the throat of his five-year-old neighbour.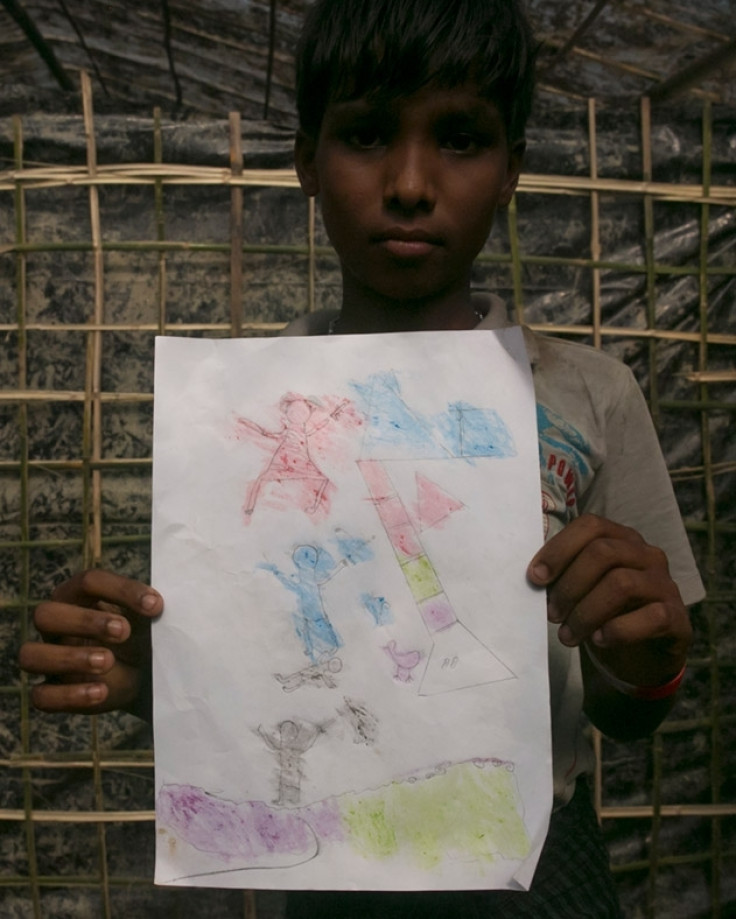 Eleven-year-old Manzur Ali drew several unimaginably horrific incidents that he says occurred while fleeing his village in Myanmar.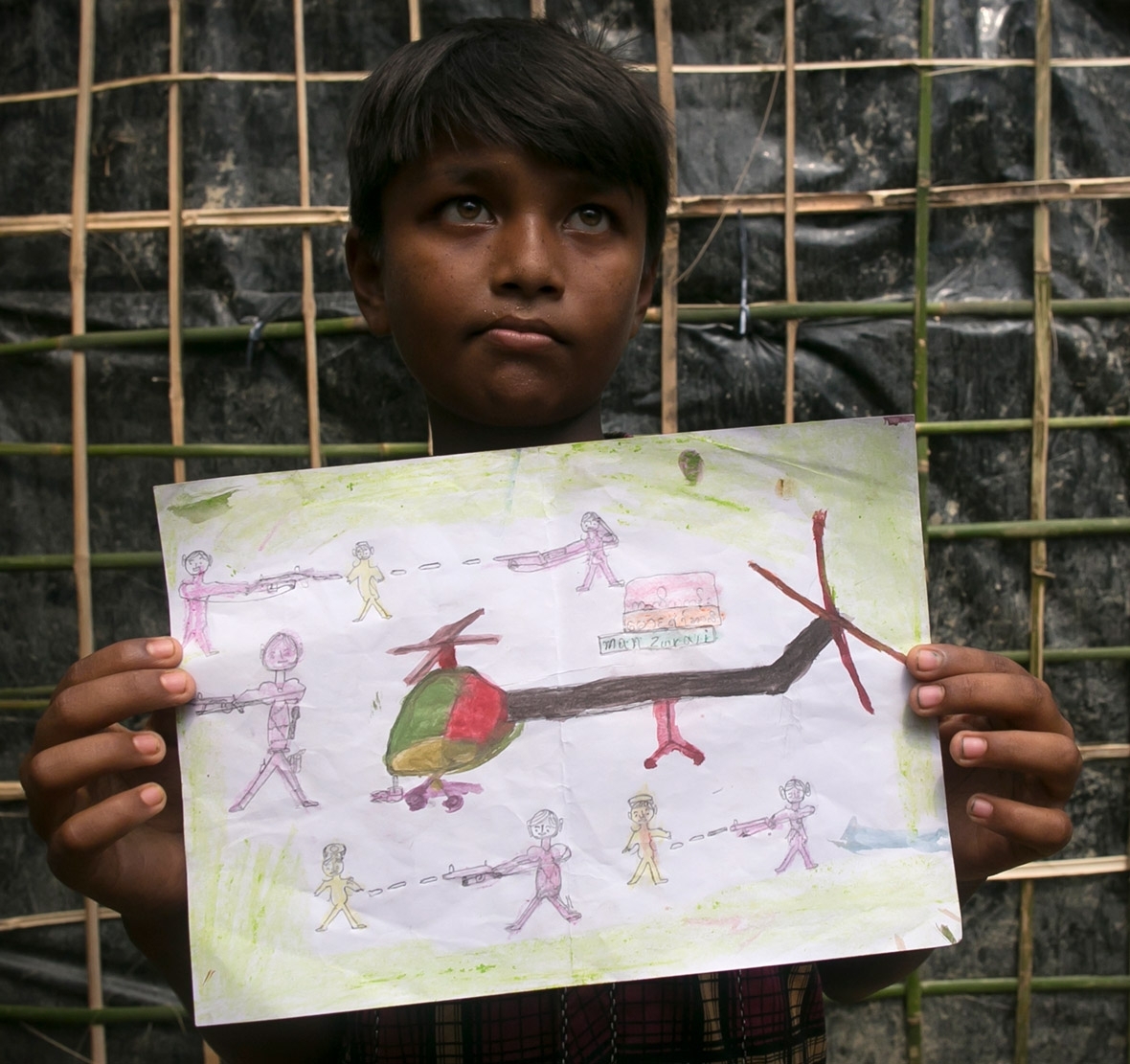 "These children have been through a terrible experience. They are heavily traumatised," says Fatema Khyrunnahar, a child protection officer with Unicef who has helped to set up what the agency calls "child friendly spaces" within the squalor and misery of the Rohingya camps. These are rare spaces where these children can be play with each other and have books read to them.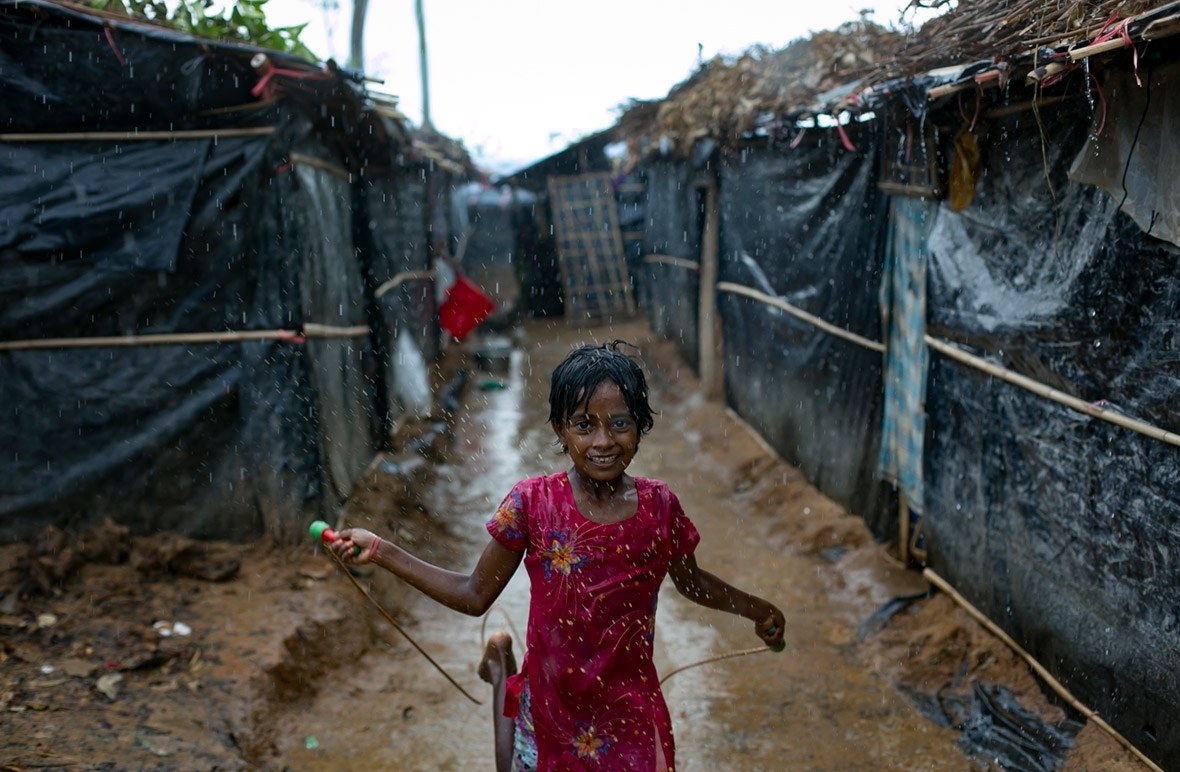 The term "ethnic cleansing" is defined as an effort to rid an area of an unwanted ethnic group – by displacement, deportation or even killing. "When one-third of the Rohingya population had to flee the country, could you find a better word to describe it?" UN Secretary-General Antonio Guterres told a news conference.
UN High Commissioner of Refugees Filippo Grandi said the world has to help the "deeply traumatised" refugees facing enormous hardship. "They had seen villages burned down, families shot or hacked to death, women and girls brutalised," Grandi said. He called for aid to be "rapidly stepped up" and thanked Bangladesh for keeping its border open.
How you can help the Rohingya refugees fleeing religious persecution and violence in Myanmar: Donate To Unicef UK , Oxfam or UNHCR
© Copyright IBTimes 2023. All rights reserved.