Nearly three weeks into the mass exodus of Rohingya fleeing violence in Myanmar, thousands are still flooding across the border in search of help and safety in overcrowded refugee settlements in Bangladesh. The crisis has drawn global condemnation. UN officials have demanded Myanmar halt what they described as a campaign of ethnic cleansing that has driven some 380,000 Rohingya Muslims to flee Rakhine state.
The term "ethnic cleansing" is defined as an effort to rid an area of an unwanted ethnic group – by displacement, deportation or even killing. "When one-third of the Rohingya population had to flee the country, could you find a better word to describe it?" UN Secretary-General Antonio Guterres told a news conference.
Award-winning British photojournalist Dan Kitwood has spent several days in Bangladesh covering the Rohingya refugee crisis. His photos show the scale of the exodus as wave after wave of desperate people arrive by land, river and sea.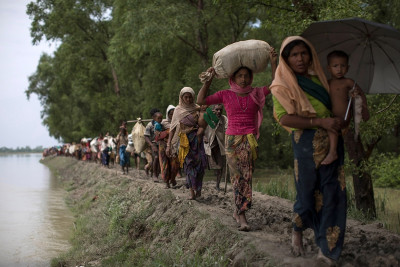 The thousands of Rohingya flooding into Bangladesh every day arrive hungry and traumatised. Many need urgent medical care for violence-related injuries, severe infections or childbirth. "The women who are coming for check-ups all have a terrified and exhausted look," Sumaya, a midwife at the Nayapara refugee camp working in association with the UN population fund, told AP.
"We keep hearing stories from them of walking through jungles and across hills for days without food, their children carried over their shoulders," she said. "They've lost their homes."
UNHCR spokeswoman Vivian Tan told AP: "These people have been walking for days. They likely have not eaten since they left their homes. Many need medical attention for respiratory diseases, infections and malnutrition." They are exhausted, they are traumatised, she said. "There are babies, some newborns, who've been exposed to the elements."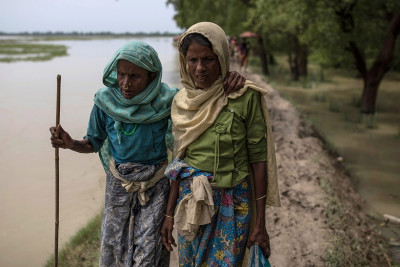 Many have died along the way. Dozens of bodies, including those of women and children, have washed up on the Bangladesh side of a border river, many with bullet or knife wounds, according to Bangladesh border guards. Fishermen report seeing bodies floating in the river.
Mostly by night, wooden crescent-shaped boats that normally ply the fishing grounds of the Bay of Bengal make the journey across the 5.7km (3.6 mile) mouth of the Naf river that separates Myanmar and Bangladesh. The five-metre boats are loaded with as many as 50 people and their belongings.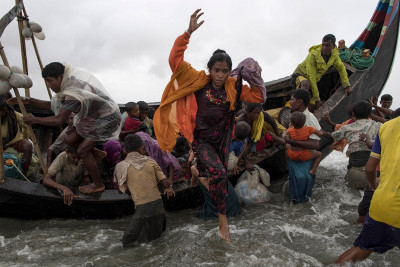 Many of those who arrive in wooden boats on beaches near Shah Puri Dwip fishing village describe ongoing violence in Myanmar, where smoke can be seen billowing from a burning village — suggesting more Rohingya homes had been set alight.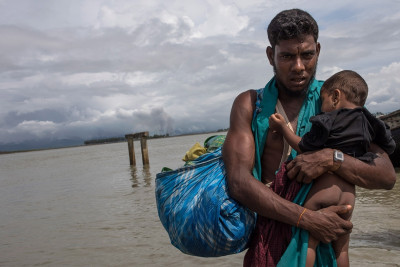 One Rohingya man who arrived on Wednesday (13 September) told the Associated Press his village of Rashidong had been attacked six days earlier by Myanmar soldiers and police. "When military and police surrounded our village and attacked us with rocket launchers to set fire, we got away from our village and fled away to any direction we could manage," Abdul Goffar said.
Myanmar has accused the Rohingya of burning their own homes and villages — a claim the UN human rights chief criticised as a "complete denial of reality."
Myanmar's presidential office spokesman Zaw Htay said that, out of 471 "Bengali" villages in three Rakhine townships, 176 were now completely empty while at least 34 more were partially abandoned. Many in Myanmar use that term as part of the long-standing refusal to accept Rohingya as citizens of the country.
Some Rohingya have found themselves detained by human traffickers, demanding payment for their rescue. Local authorities have launched a crackdown on boatmen and brokers they call human traffickers. "They bring these stranded people here. If they are not able to pay, the money, they imprison them," Pronay Chakma, assistant commissioner for land in Teknaf sub-district.
Two existing refugee camps are packed beyond capacity. Bangladesh has said it would free land to build a third. Many of the new arrivals huddle in makeshift shelters along roads or in open fields. Near the camp of Balukhali, some are setting up tents made of bamboo and plastic along hillsides muddy from days of rain. Children walk uphill to capture rainwater before it spilled into the teeming settlements below. Food, clean water and other necessities are scarce.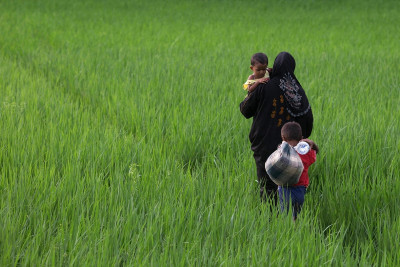 "There are acute shortages of everything, most critically shelter, food and clean water," Unicef's country representative Edouard Beigbeder said. The UN children's agency said it needed $7.3 million (£5.5m) to help just the hundreds of thousands of Rohingya children now at high risk of contracting water-borne diseases.
Panic has sometimes erupted as local volunteers distribute food, water and other supplies haphazardly from parked vehicles.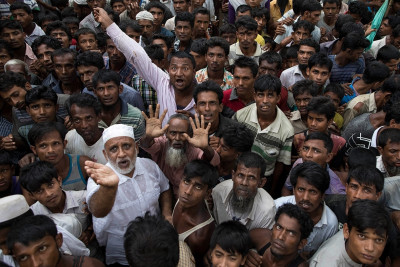 The government hospital in Cox's Bazar has been overwhelmed by Rohingya patients, with some arriving with gunshot wounds as well as bad infections. At least three Rohingya were wounded by land mines amid accusations that Myanmar's government had planted new mines along the routes Rohingya are using to flee. Land mines were planted years ago along parts of the border. Bangladeshi officials say Myanmar soldiers have planted new explosives since the latest wave of violence began, though the Myanmar military denies it.
The Sadar Hospital has treated men who arrived "distressed and afraid" with broken bones and bullet wounds, mostly to their limbs, according to the resident medical officer Dr Shaheen Abdur Rahman Choudhury. They all told similar stories of Myanmar soldiers opening fire randomly on their villages in western Myanmar on 26-27 August and setting buildings aflame, Choudhury said.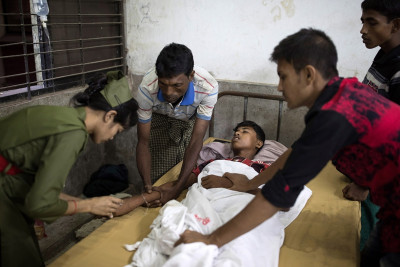 Bangladesh was already housing some 500,000 Rohingya who fled earlier flashes of violence including anti-Muslim riots in 2012. Bangladesh's leader has demanded that Myanmar allow the return of hundreds of thousands of Rohingya Muslims who fled the violence in the Buddhist-majority nation. Prime Minister Sheikh Hasina said Bangladesh would offer the refugees temporary shelter and aid, but that Myanmar should soon "take their nationals back."
Myanmar has said those who can verify their citizenship can return, but most Rohingya are stateless.
---
Who are the Rohingya and why are they do desperate to get out of Myanmar?
The Rohingya are a Muslim minority in predominantly-Buddhist Myanmar, also known as Burma. They are concentrated in western Rakhine state, which is adjacent to Bangladesh. Their numbers have been estimated at about one million. The UN says the Rohingya are one of the most persecuted groups in the world. Neither Bangladesh nor Myanmar recognises them as citizens. In Myanmar, even the name Rohingya is taboo. Myanmar officials refer to the group as "Bengalis" and insist they are illegal immigrants from Bangladesh, even though most have lived in the country for generations.
Ethnic cleansing? "When one-third of the Rohingya population had to flee the country, could you find a better word to describe it?"

UN Secretary-General Antonio Guterres
The Rohingya are effectively stateless. They have limited access to education or adequate health care and cannot move around freely. They have been attacked by the military and chased from their homes and land by extremist Buddhist mobs in a country that regards them as illegal settlers.
Longstanding tension between the Rohingya Muslims and ethnic Rakhine Buddhists erupted in bloody rioting in 2012 that killed nearly 200 people and displaced 140,000 – most of them into crowded camps just outside Sittwe, the capital of Rakhine state, where they live under abysmal, apartheid-like conditions, with little or no opportunities for work.
The latest violence in Myanmar's northwestern Rakhine state began on 25 August, when a Rohingya insurgent group wielding sticks, knives and crude bombs carried out coordinated attacks on more than 25 Myanmar police posts and an army base. An Islamist insurgent group, the Arakan Rohingya Salvation Army, or ARSA, took responsibility for the attacks, saying they were in defence of Rohingya communities.
Human rights groups and advocates for the Rohingya say the army retaliated by burning down villages and shooting civilians. The government blames Rohingya insurgents for the violence, including the arson. Myanmar says its army is conducting clearance operations against "extremist terrorists" and that security forces have been told to protect civilians, but Rohingya arriving in Bangladesh say a campaign is under way to force them out.
Journalists and other outside observers have been unable to independently travel to the northwest of Myanmar's Rakhine state since the outbreak of violence last year. The UN and aid groups had to suspend operations in the area following government accusations of supporting insurgents.