The Rolling Stones rocked 500,000 fans at a free, outdoor concert in Havana on 25 March, the first-ever gig that the legendary British band have played in the communist country. Thousands of fans crammed into the Ciudad Deportivo sports centre in the country's capital to see the band perform hits such as Jumpin' Jack Flash and It's Only Rock 'n Roll (But I Like It).
Fans, including Cubans who traveled across the Caribbean's largest island and non-Cubans who flew in for the occasion, started gathering 18 hours ahead of time at Havana's Sports City football and baseball fields.
The Rolling Stones formed in London in 1962, just three years after Fidel Castro's bearded, long-haired rebels toppled a pro-American government, causing a fracture in relations between Cuba and the west during the Cold War.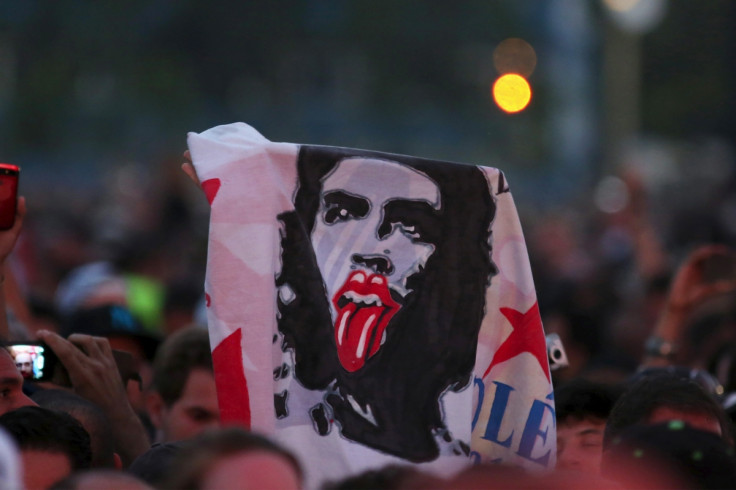 Rock music from bands including The Rolling Stones was banned in Cuba between the 1960s and 1990s for being subversive, with those caught secretly sharing vinyl records at risk of being sent to rural work brigades to cure "ideological deviation".
Despite an underground trade in bootlegged records and cassettes, it wasn't until relatively recently that the country's one-party state legalised it. Even now, with little internet access and state-run stores refusing to stock rock, most fans have to turn to stores trading in pirated CDs.
The concert culminates a week of continuing improved relations between Cuba and the west. On 20 March Barack Obama became the first sitting president in 88 years to visit the Caribbean nation, where he met with the country's president Raul Castro and offered to end the current US trade embargo.