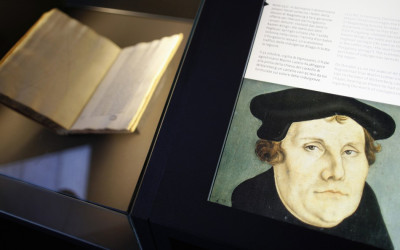 For the first time in its often secretive history, a number of documents and letters from the Vatican's secret archive were put on public display at the Capitoline Museum in Rome, with the Vatican's Secretary of State Cardinal Tarcisio Bertone (the Pope's second-in-command) in attendance.
The Roman Catholic Church has a chequered, colourful and very controversial history with numerous conspiracy theorists pointing to its supposed activities and machinations as being the ruling power in a number of global religious, spiritual and even political affairs. The highlight of that train of thought was undoubtedly the publication of Dan Brown's "The Da Vinci Code" and later "Angels and Demons", as well as the film versions of the two (both starring Tom Hanks in the lead).
Now, however, in an effort to shed that shroud of secrecy, the Vatican has put some of its private documents on display at this exhibition.
The Cardinal, in a Daily Mail report on the event, spoke on the fact of a number of documents, in the recent past, having been leaked from within the Vatican.
"These are the only true documents which should be focused on and what strikes me is their history," the Cardinal said in the report.
Apparently, officials have selected approximately 100 documents, from the eighth to the 20th centuries. These include papers relating to Galileo Galilei's trial and letters concerning Henry VIII.
Start the slideshow to see some of the documents from the exhibition....