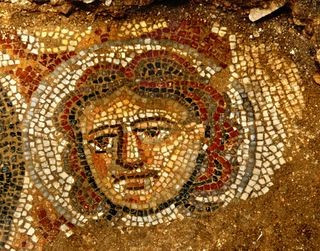 The remains of a Synagogue, a Jewish prayer house, have been unearthed in the ancient Jewish village of Huqoq, west of Capernaum and Magdala in Galilee in northern Israel.
According to archaeologists at the Israeli Antiquities Authority (IAA) and from the University of North Carolina (UNC) at Chapel Hill, who are undertaking excavations at the site, the prayer house dates back to the late Roman period of the 4th or 5th centuries CE.
During the course of the excavation and investigations into the site - these will continue till the summer of 2013 - portions of a decorative mosaic floor depicting several biblical scenes were unearthed. Further excavations revealed a scene showing Samson, an Israeli leader in the 11th century BC known for his supernatural powers, placing torches between the tails of foxes (as related in the book of Judges 15), the IAA said in a statement on Sunday. The other excavated part of the mosaic floor shows two side-facing people, thought to be female, with a circular medallion that has a Hebrew inscription referring to rewards for those who perform good deeds.
The discovery is being dubbed as very significant one since very few Jewish prayer buildings are known to have such an adornment.
"This discovery is significant because only a small number of ancient (Late Roman) synagogue buildings are decorated with mosaics showing biblical scenes, and only two others have scenes with Samson (one is at another site just a couple of miles from Huqoq)," Jodi Magness, of the Department of Religious Studies at UNC's College of Arts and Sciences, said.
Besides the scenes of the Bible, archaeologists said that the quality of mosaic floor, which is made of tiny colored stone cubes, suggested a prosperous society of the Roman period.
"Our mosaics are also important because of their high artistic quality and the tiny size of the mosaic cubes. This, together with the monumental size of the stones used to construct the synagogue's walls, suggest a high level of prosperity in this village, as the building clearly was very costly," Magness added.