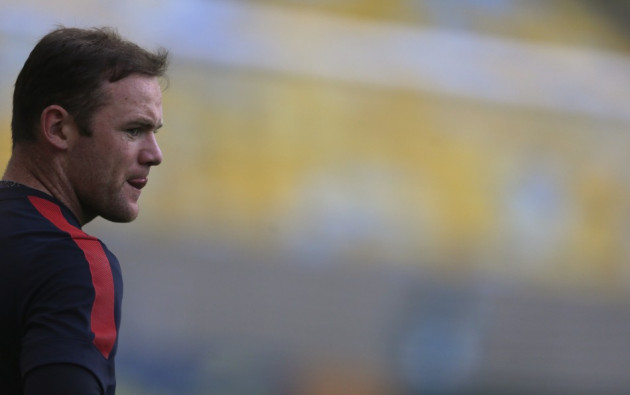 Wayne Rooney's exit strategy at Manchester United has taken a further blow after new Chelsea manager Jose Mourinho appeared to dismiss signing the England international this summer.
Rooney has handed in a second transfer request in three years at United after falling behind Robin van Persie as the linchpin of the Premier League champions' attack.
The 27 year old has been linked with moves to the likes of Arsenal, Chelsea and Paris Saint Germain in recent months, but Mourinho remains coy over his potential transfer targets, claiming Rooney should simply do what makes him happy.
"I learned a few things," Mourinho said. "One of them is I don't comment on players from other teams. No chance. No chance."
"I think he [Rooney] is at a fantastic age for a player: maturity, big experience, still young. It's up to him and what he wants, what makes him happy.
"He's a little bit like me: he doesn't need one more pound in his contract. One more cup won't make a difference. Be happy. Where is he happy?
"Where will he find more happiness to have ambition and drive him? I like him as a boy. I wish him well and hope he is happy."
With Arsenal boss Arsene Wenger remaining reserved over any interest in signing Rooney this summer, despite chief executive Ivan Gazidis claiming the club could financially support a bid for the ex-Everton striker, the unsettled United man is rapidly running out of options this summer.
PSG captain Thiago Silva has urged his side to recruit Rooney this summer, after he netted against Brazil in Rio.
"I love this player," he said.
"Whenever I have played against him he has scored. I would really like Rooney to sign for PSG. This would be a reinforcement of quality for us."
The Ligue 1 champions represent the only viable option currently for Rooney, unless he chooses to reconcile with United and new manager David Moyes.
Moyes handed Rooney his professional debut but the pair have since fallen out after exerts of the latter's autobiography were published in a national newspaper; with libel damages eventually being settled out of court.
After making a dramatic U-turn in 2010 after submitting a transfer request at United, Rooney faces major unpopularity among fans at Old Trafford should he return ahead of the new season.