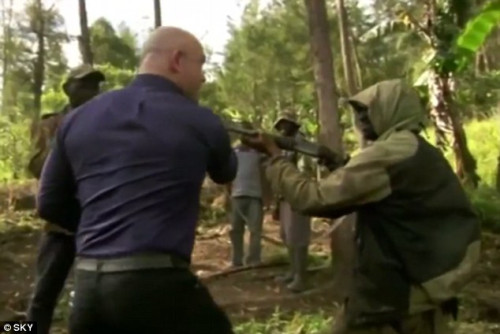 Ross Kemp channelled the spirit of EastEnders hard man Grant Mitchell when bandits started pointed guns at him during filming in Papua New Guinea.
Kemp was filming series three of Extreme World for Sky when he found himself looking down the barrel of a gun in a jungle in the lawless country.
But Kemp – who used to play one half of the tough Mitchell brothers in the popular BBC soap - did not tremble in terror. Instead, he grabbed hold of the muzzle of the firearm and starting swearing at the guerrilla fighter gripping the other end.
As the gunman stared into the former face of community enforcement in Walford, Kemp yelled at him: "Are you gonna kill me? No one's gonna f***ing kill me!"
It was just the sort of thing Grant Mitchell would have done to unruly drinkers in the Queen Vic pub.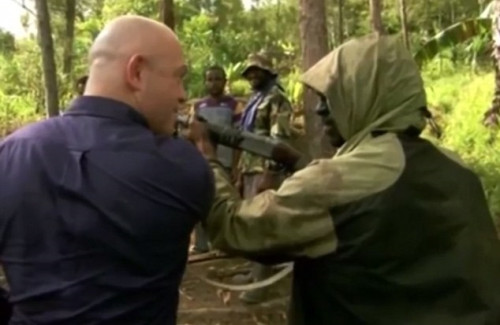 The ploy worked because BAFTA award-winning Kemp and the film crew faced down the threat and left the area unharmed.
Kemp's brush with bandits came during an assignment to meet a chief fighter called 'The General.' Things started going wrong when their guide suddenly scarpered during the journey by foot, leaving Kemp and his crew alone.
Soon afterwards, the General emerged from the forest with guards. Initially the meeting went off smoothly, with Kemp munching a bettlenut they offered him. But things turned bad quickly, as three men burst from the bushes brandishing guns, ordering Kemp to get on his hands and knees.
Recalling the incident, Kemp said: "If you get down on your hands and knees, you know you are going to become a victim at that point. What they're going to do, you don't know.
"I don't know to this day if they were going to hurt us or if they were just testing us, testing our mettle to see if we'd capitulate, and because we didn't, we earned his respect I think."
Papua New Guinea is a semi-lawless state located above Australia where one-third of the population live on less than £1 a day.
A report by The Lancet found more than a quarter of men in one part of the country admitted to raping a woman. A report by Amnesty International claimed nearly half of all Papua New Guinean women said they had been victims of rape.
Kemp has travelled to hotspots around the world on TV assignments since quitting Walford in 2006. Extreme World 3 is broadcast on Sky One, next week.