The number of people sleeping rough in England has increased for the seventh consecutive year according to official figures. And as the number of homelessness figures reach record levels, pet charity Street Vet knows it will likely have its work cut out for it, too.
Founded in 2016, Street Vet mobilises 150 qualified volunteer veterinarians and nurses across the UK to care for the animals of homeless people. After launching in the capital, they now have dedicated teams in the homelessness hotspots of Bristol, Brighton, and Cambridge.
Their work is vital to those who spend each day simply trying to survive. According to the Association of British insurers, the average cost of a claim to treat a pet in 2017 was £570. Even a common problem like a bite abscess on a cat can set an owner back £245 according to Tesco Pet Insurance, BBC News reported.
Co-founder Jade Statt was inspired by Joshua Coombes, a hairdresser who cuts the hair of rough-sleepers, and his Do Something for Nothing movement which encourages others to give away their skills and time for free.
When she saw a homeless man struggling to care for his dog after she lost her own pet, Statt pledged to make her ambition a become a reality, she told IBTimes UK. She knew of similar projects abroad, but wanted to replicate the services in the UK where there are stricter regulations on giving animals medical care.
Unbeknown to Statt, fellow vet Sam Joseph had the same idea and made steps to become the first homeless outreach program to get the backing of the Royal College of Veterinary Services. The pair later met in a pub and decided to team up.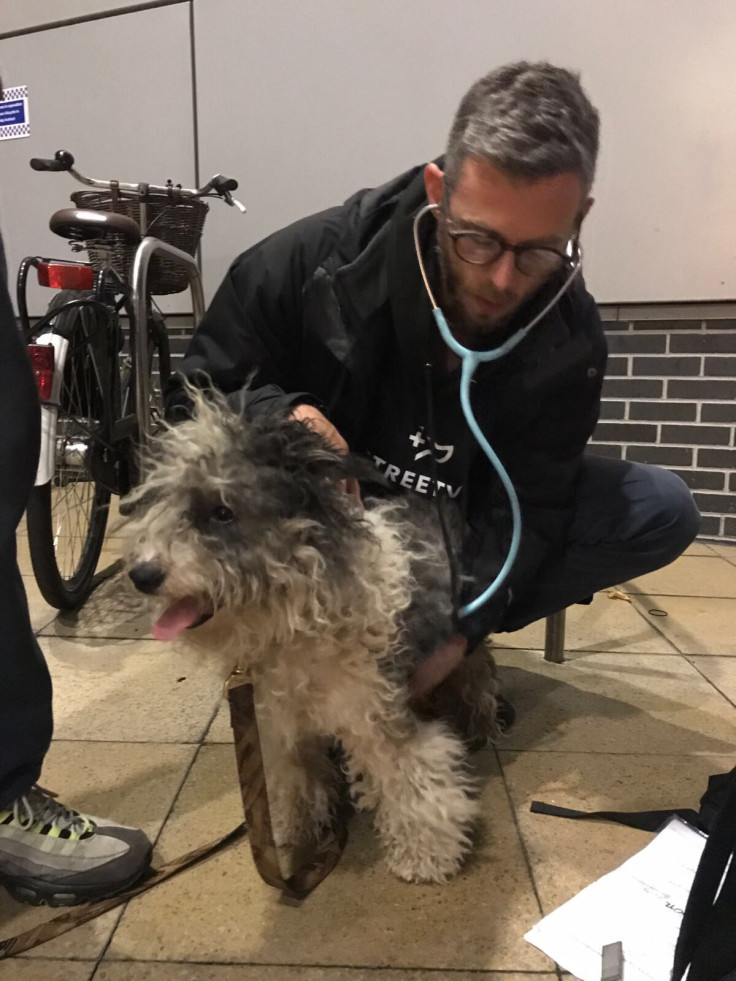 "When it started I had a backpack and just went for a wander," recalled Statt, admitting that this was not the most efficient way to work despite her best intentions. Now, the charity stations itself beside soup kitchens for homeless people - which in turn helps the vets to earn the trust of cautious pet owners - as well as contacting hostels to check if any guests have pets.
Volunteers hand out essentials including leads, collars, toys and food. Statt urges members of the public to alert Street Vet to animals who might benefit from a check-up or appear to require medical help. While the team primarily operates in London, Bristol, Brighton and Cambridge it can connect pet owners outside of those areas with local vets where possible.
The pets - mostly dogs - that Statt treats generally have diet-related health issues, because they are fed human food that can cause stomach upsets weight gain. Skin and dental problems are also common. Dogs who aren't neutered, meanwhile, might suffer from conditions such as mammary cancer which require surgery.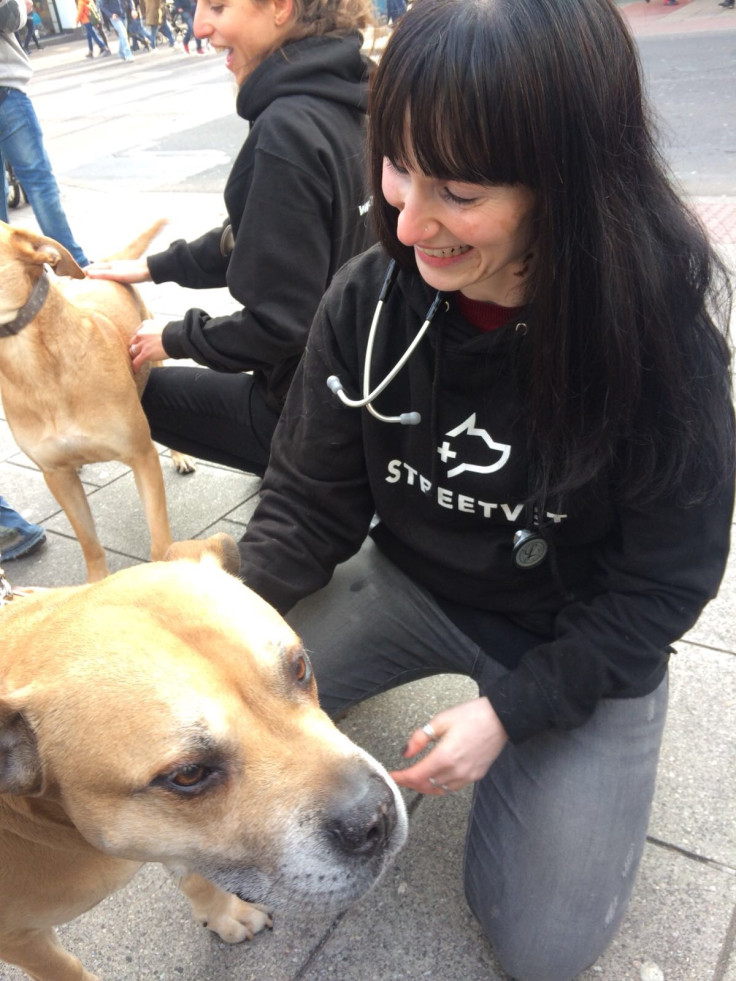 But Statt is adamant that it is not cruel to keep pets on the street, highlighting that owners often get their dogs before they lose their home.
"There are a lot of preconceived notions of homeless people with dogs," she said. "People say and 'it's fine they've messed up but it's wrong to have the dog'. Well, firstly they had the dog before they ended up there. And who are you to say what kind of life that dog has?
"As a vet in normal practice we see people [with homes] who come in and say 'oh this dog is a bit bigger than I expected it to get and I want to give it up and put it to sleep'. There are people who have dogs who leave them on their own all day because they're at work.
"These [homeless] people will even sit in the cold on the street because they won't go to doctors or take a hostel place because they won't accept dog. If you became homeless tomorrow, would you leave your dog behind? I certainly wouldn't."
"I love my dogs but I don't sit with them 24-hours a day. I think that what dogs bring is a sense of normality. They have a codependency. All dogs want is their owner's company and to eat and to have a walk. There's not much that is not given to them if they're on the street. As long as they're with their owner they're happy. These dogs are rarely on a lead because they won't leave their owner's side. With homeless people their sense of responsibility is massive.
As a result, the impact of the service goes beyond the short-term fixes, and can help the owners, too. "We are working with an owner at the moment who wouldn't go into hospital because she wouldn't leave her dog," said Statt. "Someone contacted us and we sent a vet over to assess the dog and vaccinate it so it could go into a boarding kennel.
"The dog's owner was then able to go to hospital to get treatment. That is just one example of how important their dogs are. People and they will forgo treatment because of their dog."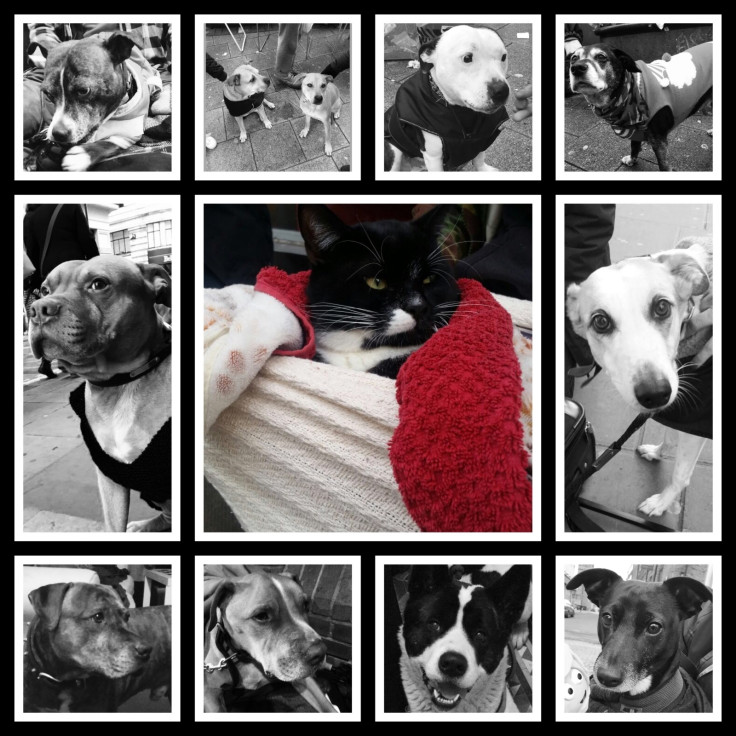 Statt hits back at the idea that it is selfish for homeless people to keep dogs by drawing attention to the charity work of Shane Mcclery-Westwood, who lost his home with is six dogs after his landlord sold the flat he was renting. The cancer survivor is now walking the length of the British coastline to raise money for the families of children with the disease.
"We heard he was coming to Brighton so we contacted him and arranged to get check his dogs. We put his mind at rest that his dogs are OK and now he can continue walking and raising money."
Street Vet's efforts have inspired people to raise funds by competing in gruelling Tough Mudder endurance challenges and donating their hair to charity, said Statt. The organisation also has an Amazon wishlist for each city, and also accepts donations on their website.
"Other than that just to stop when you see a homeless person and don't walk past," said Statt. "Ask them about their dog, and tell them about Street Vet."