Manchester City striker Mario Balotelli says he would be delighted to play alongside Arsenal contract rebel Robin van Persie following the Dutchman's refusal to sign a new deal.
Van Persie revealed on Wednesday his intention to not extend his current contract, which has less than a year to run.
The 29 year old now has the option of leaving The Emirates Stadium at a cut price in the current transfer window or to see out the remaining 12 months of his contract and depart on a free next summer.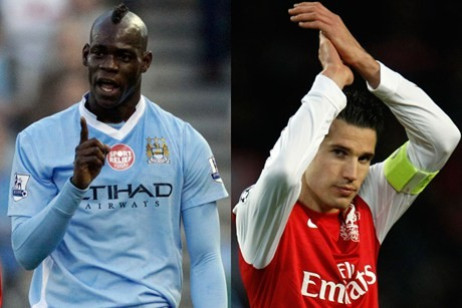 Premier League champions City have been heavily linked with a move for Van Persie, and striker Balotelli is keen to play alongside the Netherlands forward at some point in the future.
"Will Robin move up to us? I would love to play with him," Balotelli said.
After netting 30 Premier League goals last season, Van Persie earned a host of awards including the division's golden boot, the Professional Footballers' Association Players' Player of the Year and Football Writers' Association Player of the Year.
He joined an elite group of players including Alan Shearer, Thierry Henry and Cristiano Ronaldo in netting 30 goals in a 38-game league season, helping Arsenal finish third in the Premier League, above rivals Tottenham Hotspur, and thereby qualifying for the Champions League.
However, having not won a trophy for seven years, since their FA Cup win over Manchester United in 2005, The Gunners have failed to match Van Persie's ambition; finishing 19 points off champions City, and being knocked out at the second round stage in the Champions League to AC Milan.
In a statement on his official website, Van Persie stated his immediate future would be decided upon his return from holiday in a fortnight.
"As announced earlier this year I had a meeting with the Boss and Mr. Gazidis after the season," he said. "This was a meeting about the club's future strategy and their policy. Financial terms or a contract have not been discussed, since that is not my priority at all.
"I personally have had a great season but my goal has been to win trophies with the team and to bring the club back to its glory days.
"Out of my huge respect for Mr. Wenger, the players and the fans I don't want to go into any details, but unfortunately in this meeting it has again become clear to me that we in many aspects disagree on the way Arsenal FC should move forward.
"I've thought long and hard about it, but I have decided not to extend my contract. You guys, the fans, have of course the right to disagree with my view and decision and I will always respect your opinions.
"As soon as Mr. Gazidis is back from his 2-week holiday in America further meetings will follow and I will update you if and when there are more developments."