Oh baby! The Swedish Royal Family welcomed yet another addition to the family on Monday (15 June) after Princess Madeleine gave birth to her second child, a son.
The Royal Court announced that the 33-year-old princess, who is fourth in line to the throne, and her newborn baby are both in good health. The baby, whose name has not been revealed yet, is the sixth in line, Reuters reported.
The new royal is the second child for the princess and her husband, banker Christopher O'Neill. The couple had their first child, Princess Leonore in February 2014.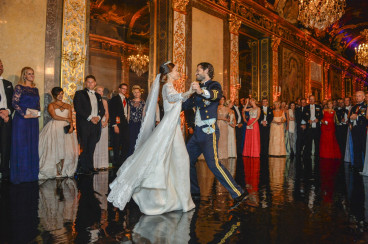 On 13 June, Princess Madeleine celebrated the nuptials of her brother Prince Carl-Philip to 30-year-old Sofia Hellqvist in Stockholm at the Chapel Royal of the Sveriges Kungahus. Several royals from throughout the world attended the wedding from Denmark's Queen Margrethe to Japan's Princess Takamado.
The prince's parents, and reigning monarchs, 69-year-old King Carl Gustaf and 71-year-old Queen Silvia were among the wedding party, as well as the heir to the throne 38-year-old Crown Princess Victoria, her 41-year-old husband Prince Daniel and their 3-year-old daughter Princess Estelle.
Sweden's monarchy is a constitutional monarchy, with the king holding no political power. Reuters reported that public support for the Swedish royal family has declined in the last few years although they maintain wide popularity.
According to E! Online, the newest princess looked quite royal in a long-sleeved lace gown that had a long train and cathedral-length veil. The newlyweds were met by thousands of fans as they were driven to the palace for the wedding reception by a horse-drawn carriage.