All eyes were on Prince George again, as he got busy exploring during a family outing to the polo.
The one-year-old, who just a day earlier took centre stage on the balcony of Buckingham Palace for the Trooping the Colour ceremony, watched his father Prince William, uncle Prince Harry and grandfather Prince Charles at the Festival of Polo at the Beaufort Polo Club in Gloucestershire.
While his mother Kate did her best to keep him from invading the polo pitch, it wasn't long before the excitable toddler was running down a hill to join in the fun.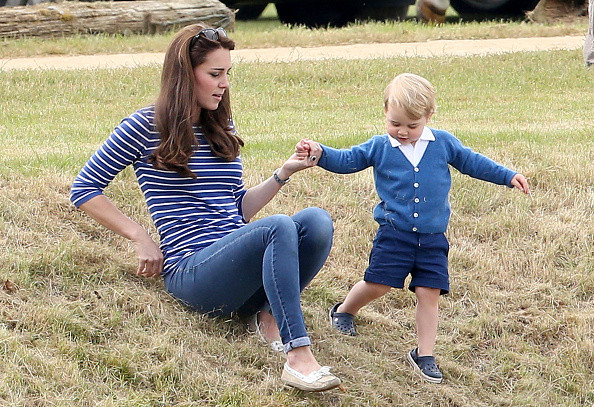 The toddler appeared fascinated by the polo mallets and even tried to kick one of the balls in to the heart of the action.
Appearing to accept that this was game for the grown-ups, clutching a favourite red and black toy, George made his way back up the hill supported by his mother as he scrambled along the grass verge, occasionally taking a little tumble on the way.
The Duchess of Cambridge, 33, looked relaxed and showed off a slim figure just six weeks after giving birth to Princess Charlotte, as she ran after her boisterous young son. The Princess, who is a keen sports fan herself, joined George in an impromptu kickabout as she tried to teach him how to kick a ball and pretended to block him as he tried to dodge past her.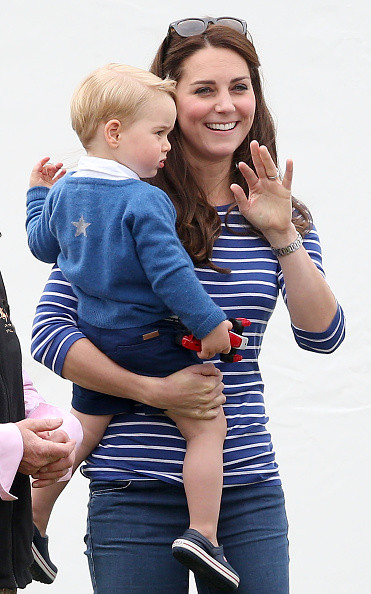 The mother-of-two, looked effortlessly stylish in a ME+EM striped top, matched with her favourite Sebago shoes. There was no sign of George's baby sister, six-week-old Charlotte, giving the young mother time to bond with her first-born.
Prince William took part in the charity match and Kate eagerly pointed him out to George as he watched his father in action.
Later Prince William to a break from the match to show his polo mallet to George while Prince Charles looked on.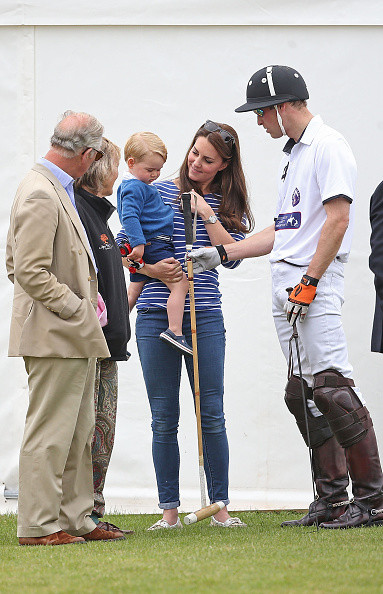 Also among the royals at the festival's charity match were Zara Phillips and her husband Mike Tindall with their daughter Mia Grace, as well as Peter and Autumn Phillips with their children Isla and Savannah.
Beaufort Polo Club is a favourite of Princes William and Harry - who have battled it out against one another on the field countless times.
Tim Keyte, executive polo manager of the nearby Cirencester Polo Park told The Telegraph: "They obviously have that talent already. William is so much like his father in the way he plays. I played with his father quite a bit in the early days. When you take a quick look, you have to do a double take to make sure that they aren't the same person.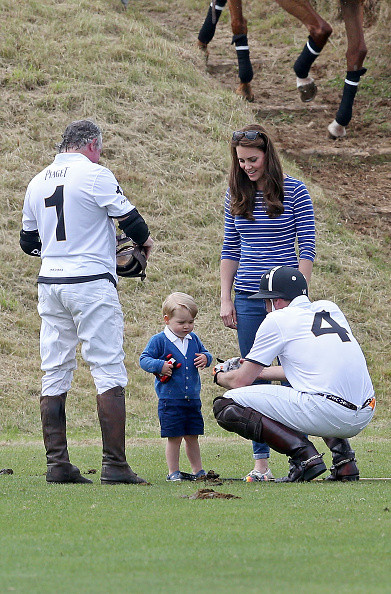 "Harry has got his own style. He's more of a fighter, someone who gets in there and gets his hands dirty. William is more calculated, a lot like his father."
Prince Charles retired from playing polo in 2005 after being a keen participant for 40 years. He first became interested after watching his father, the Duke of Edinburgh play at Windsor, taking part in his first game aged 15 in 1963.
This year, tickets for the festival could be purchased for as little as £10. Guests enjoy polo demonstrations, family entertainment, and more than 40 exhibitors situated in the tented shopping village.