The new royal baby is already flouting tradition, with the news that his / her birth will be announced on social media.
According to The Sunday Times, in a sign of the times and a nod to the internet age, news of Prince George's baby brother or sister's arrival will be tweeted to the world.
In keeping with age-old conventions, an official announcement will then be posted on the easel behind the gates of Buckingham Palace, in a bid to retain the "the theatre" associated with a royal occasion.
Prince George's birth on July 2013 was first announced to journalists in an emailed press release. A formal notice signed by the doctors who delivered him was then taken by police escort to Buckingham Palace and displayed at the gates of the palace.
A palace spokesman said at the time: "We wanted to retain some of the theatre of the notice. It is quite important to us that this is done properly and with the degree of dignity that the event demands. This is the birth of a child who will be in line to the throne. It is a rare occasion and it is nice to be able to do it with some historical precedence."
Royal sources say, this time there will be less ceremony around the delivery of the piece of paper from the Lindo Wing of St Mary's to Buckingham Palace. The signed document will be taken out of a side door and delivered to the palace in an unmarked vehicle.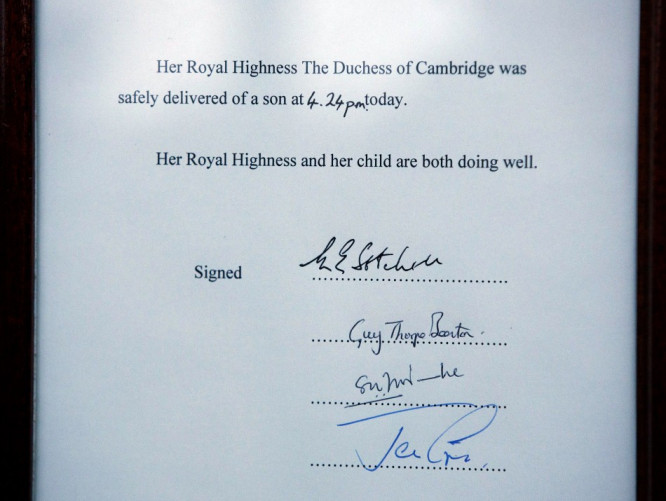 The thoroughly modern Duke and Duchess have turned to Twitter in the past to make formal announcements. The confirmation of their engagement in October 2010 was made on Twitter the following month.
Meanwhile, royal watchers have their sights trained on the Lindo wing with the Duchess expected to deliver her second child anyday. The royal baby was believed to be due on 24 April. If Kate hasn't given birth by May1 the baby will be officially overdue. Parking restrictions outside the hospital run out after April 30.
There could of course be a double celebration, with the baby's arrival coinciding with William and Kate's fourth wedding anniversary on April 29.