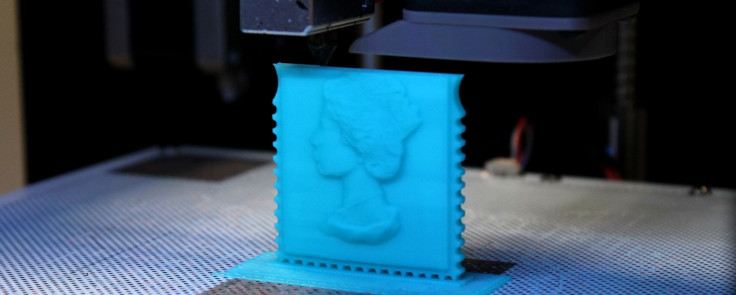 UK postal service Royal Mail has launched a trial that will see 3D-printing services being offered to customers in-store starting today (8 December) from the Royal Mail delivery office on New Cavendish Street in central London.
Royal Mail is teaming up with iMakr, a UK-based retail store that sells printers, scanners and printing supplies of the 3D variety.
iMakr is also behind the full-body 3D scanners at Selfridges and Harvey Nichols where people can have a "Mini-You" selfie statue printed as a memento on to sandstone, chocolate or even wax candles.
The pilot will enable customers to purchase a range of ready-to-print items from pre-existing designs available at both Royal Mail and My Mini Factory, or customers can create their own designs from computer-aided design (CAD) software and then bring the 3D model file into the delivery office to print.
While the Royal Mail's online gift shop does not have a large range of 3D-printed products yet - just a few simple generic items such as stamp magnets, a post box container, customised key rings, door name plates and egg cups - users can find a wider selection on MyMiniFactory.
Ordering 3D-printed items online
Similar to MakerBot's Thingiverse and the Shapeways Marketplace, MyMiniFactory is an online community website where users can upload and share their CAD designs.
They can either download the CAD files on to their computers and send the data to their own 3D printers to print out items, or order them from the website, and they will be delivered by Royal Mail.
If users want to 3D print out something specific but do not have access to CAD software or knowledge of how to use it, they can email their concept to the company.
iMakr told IBTimes UK it will take roughly between £250 to £500 a day for a professional designer to turn the design into a 3D model, depending on how complex the design is.
"3D printing is an emerging technology that has many applications and offers an innovative way to create unique or personalised objects," said Royal Mail chief customer officer Mike Newnham.
"It can be prohibitively expensive for consumers or small businesses to invest in a 3D printer, so we are launching a pilot to gauge interest in 3D printing to sit alongside Royal Mail's e-commerce and delivery capability."
The adoption of 3D-printing technology is expected to grow by 95% between 2012 to 2017. However, Gartner predicts that only 2.3 million 3D printers will be sold in 2018, mostly to large industrial firms for rapid prototyping.
Consumer uptake of 3D printers will lag by between five to 10 years and it is also possible they may not decide to buy their own hardware but instead go to retail outlets to print out items.
UK uptake of 3D-printing technology on the rise
In the UK, the first 3D printer café MakersCafe opened in London in August and the NHS is starting to use 3D-printing for medical applications, particularly to test implants before they are used in reconstructive surgeries.
iMakr, which launched its retail store in London in April 2013, said so far close to 2,000 Mini-You selfie statues have been sold in the UK and it has sold a considerable number of 3D printers as well.
"We are definitely seeing a move from the prosumer market to the consumer – especially with the addition of things like our file-sharing platform which is allowing even non-designers to start 3D printing quickly and easily," iMakr spokesperson Rees Calder said.
"At the moment, print on demand services are quite popular but we are hoping that the demand for this decreases as more and more people adopt this technology into their homes.
"3D printing is really about giving people the ability to produce things for themselves, and as such we expect print-on-demand services to gradually die out in the coming years."