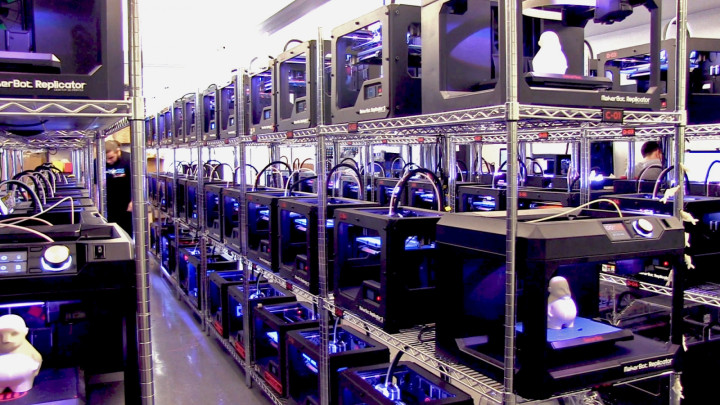 For those of you outside the world of manufacturing, 3D printing seems to be a concept that has come out of nowhere over the last two years, and now seems to be absolutely everywhere, but how did it all begin?
MakerBot is a 3D printing company that was founded in 2009 by Bre Pettis, Adam Mayer and Zach Smith, with Pettis being a member of the RepRap Research Foundation, a non-profit group created to help advance early research in the area of open-source 3D printers.
Working out of a garage, the three founders designed kits where enthusiasts could build their very own 3D printer and then print objects out using open-source software.
Users could choose to design items in computer-assisted design (CAD) software, and then upload and share those designs with an online community called Thingiverse, the first of its kind in the 3D-printing space.
And so, for a long time, 3D printing was restricted to a close community of computer nerds who enjoyed inventing and designing things.
Bringing 3D printers to work
But as MakerBot grew, the founders noticed people were starting to bring their hobbyist kits to work.
"As time went on, we realised that engineers were starting to bring MakerBots to work and use them in their professional work, often to make designs quickly – a process called real-time prototyping," Mark Schulze, MakerBot's vice president for sales tells IBTimes UK at MakerBot's headquarters in New York.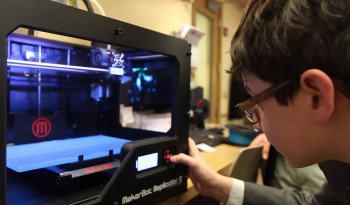 "This happened particularly when we began shipping MakerBots ready made out of the box, and we noticed something curious – Fortune 500 companies are buying MakerBots to real-time prototype in their offices, and then when they were happy with the prototype, they would then use a Stratasys industrial 3D printer to print out the final product."
And while over the last decade, 3D printing has been used in rapid prototyping in many industries and continues to be used for that today, a new business case for the technology is emerging – cottage industries, where non-professionals, known as "prosumers", who use 3D printing both for work and play, are finding new ways to use the technology.
Take Chris Milnes, a designer-turned-inventor who is now a professional consultant who teaches businesses how to start 3D printing products in-house rather than sending it all the way to a factory in China.
Creating a solution at home
Milnes was in a rock band and he often used Square, a tiny mobile credit card reader that turns mobile devices into point-of-sale terminals, to swipe credit cards while selling band merchandise.
Although the Square reader worked, the tiny plastic device would often swivel around on the phone and not read the cards properly, so he decided to design a solution to the problem.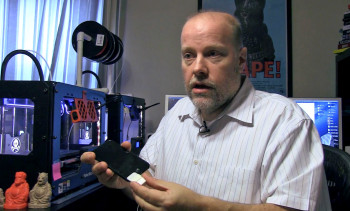 He used a 3D printer to design a tiny bit of plastic called the Squarehelper to hold the Square reader in place, and it was so successful that other people who were frustrated by the problem began ordering them from him.
"I took a trip to China to look at injection moulding [in a factory] the usual way and it was going to be really expensive for an independent dad in New Jersey," Milnes tells IBTimes UK.
"To make an injection mould for the Squarehelper, it would have cost me $6,000 and then the factory would have charged me between 15-20 cents per piece. Instead I bought a 3D printer for $2,000 and here at home I can 3D-print it and each piece costs me less than three cents.
"This is something I could never do 10 years ago when injection moulding was all we had. It took me just one week to learn to use a 3D printer, and in one month I was selling the Squarehelper online, and within three to five months they were buying them wholesale and selling them to stores in the hundreds."
A cottage industry powered by 3D printing
Milnes eventually branched out into various different products, which turned into a full-time business he runs from home, using four 3D printers running 20 hours a day. One of his top-selling products being toy figurines of Buddhas topped with the heads of popular sci-fi characters, which he prints out and sells on Etsy.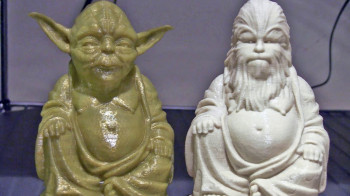 "If I wanted to print out 10,000 pieces, then it might make sense to go to injection moulding, but I like making limited edition pieces of just 1,000 at a time, so 3D printing is much cheaper," Milnes says.
"Now I teach companies how to set-up 3D printers in-house so that they can make their own products, or people contact me from all over the world on 3D Hubs, asking me to design objects for them or to print out design orders for them on my printers."
Besides cottage industries (where people are making their own products), rapid prototyping and medical applications, 3D printing is also infiltrating schools, colleges and universities, but as people continue to innovate, even the veterans of the 3D printing industry have no idea where the technology will eventually lead.
"We have an idea where we think 3D printing will be in the next year or so, but the magic about this is that we don't know exactly how it will impact the world," says Schulze.