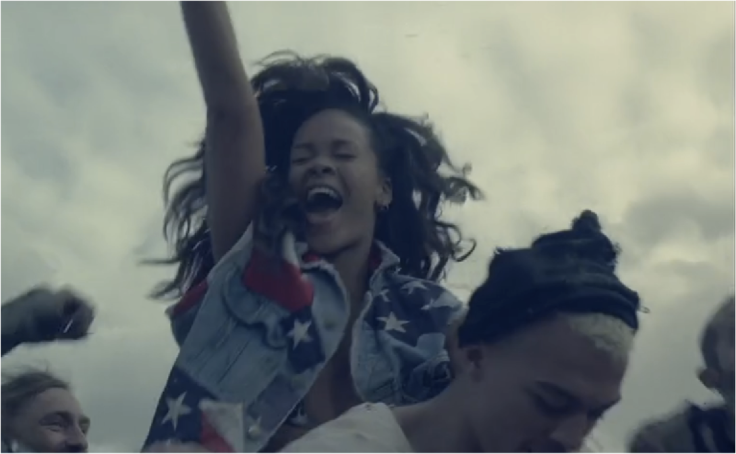 Rihanna and Calvin Harris have plenty to celebrate as their chart-topping single We Found Love has been certified diamond. According to the Recording Industry Association Of America (RIAA), the pop stars have sold more than 10 million copies of the single in the US since its release in 2011.
We Found Love was written and produced by Harris, 32, with vocals provided by Rihanna but features on the songstress's sixth album Talk That Talk. Reacting to their diamond news, Harris tweeted: "That's wild thank u America." The announcement came just in time for the single's fifth birthday which Harris celebrated on 22 September by sharing the handwritten lyrics he penned for the verse.
The milestone makes the Scottish DJ the first EDM artist to receive diamond certification. Only 10 other songs have achieved the status alongside Lady Gaga's singles Poker Face and Bad Romance, Katy Perry's Dark Horse and Firework as well as Justin Bieber's Baby and Macklemore & Ryan Lewis's Thrift Shop.
Following its release in September 2011, We Found Love dominated the airwaves, became a huge club hit and spent several weeks at number one around the world including the Billboard Hot 100 chart where it enjoyed a total of 10 weeks at the top.
The music video was widely rumoured to be inspired by Rihanna's relationship with ex-boyfriend Chris Brown due to the depiction of a turbulent romance and the male lead bearing a striking resemblance to the r'n'b singer.
The song's success propelled Harris's global status and enticed other artists to work with him. Explaining how it changed his career, the Blame DJ told MTV News in 2012: "Yeah, people at the start of the record, when I was trying to gather some people 18 months ago, said no and then came back after maybe 16 months. Maybe after We Found Love they were interested now. They obviously freed up some time and could do it then."
Rihanna, 28, and Harris went on to enjoy more success together with their second collaboration This Is What You Came For becoming one of the biggest singles of summer 2016.
British singer Adele has also reached diamond status with her critically-acclaimed third album 25, which was released in November 2015. The Hello hitmaker was handed the 10 million sales plaque at her final Madison Square Garden show in New York on 26 September. The Grammy-winner previously received diamond certification for her second album 21.
Watch Rihanna and Calvin Harris's We Found Love video: