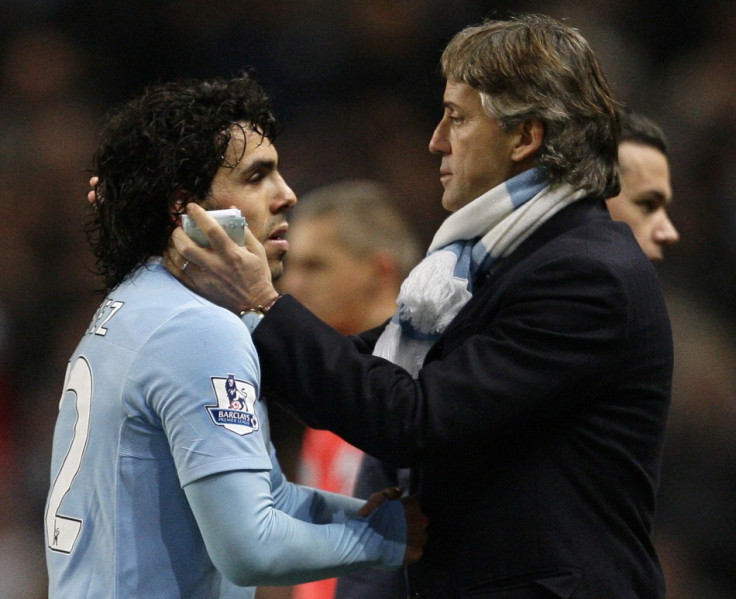 Manchester City boss Roberto Mancini has blasted Carlos Tevez for his behaviour during their defeat to Bayern Munich in September.
The former Manchester City captain refused to warm up against the aforementioned Bundesliga giants in September and in doing sparked a series of events that is likely to conclude with the 27-year-old leaving the Etihad Stadium for AC Milan next month.
Mancini suggests he has never experienced anything like it in football and the Manchester City manager intimates it was the first issue he had encountered with Tevez during their mutual Eastlands' careers. The striker has since refused to return to Manchester City, instead preferring to remain in his native Buenos Aires.
"Tevez behaved stupidly in the way a player shouldn't - especially a great player." The Manchester City boss told The Sun.
"I was really angry because I was not expecting that from him. I always had excellent relations with him.
"That's the first time I've seen that in such an important match when there was 40 minutes still left to play."
Despite being on the cusp of agreeing to leave Manchester City to join AC Milan next month, Mancini suggests it could have been very different had the Argentine apologised for his behaviour at the Allianz Arena in September.
"Ten days after what happened in Munich, I invited him to come to my place to talk." Mancini said.
"I told him if he apologised to me, to the club, to the team, he could come back into the squad. I would have forgiven him but he replied that he didn't have to apologise to anyone."
Manchester City face Bayern Munich in the return fixture knowing their Champions League future is out of their hands. They must beat the German side and hope Villarreal can pick up their first point of the season against second-placed Napoli.