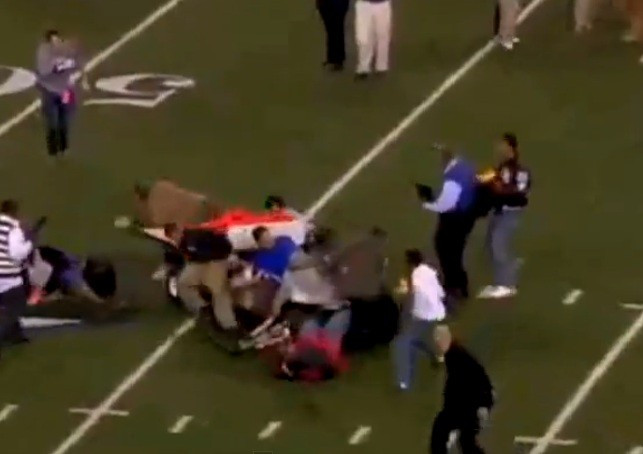 One person was taken to hospital and several other received minor injuries after an unmanned electric cart ploughed into a crowd at an American football game.
The incident happened on Saturday after Spring Dekaney beat Cibolo Steele in Arlington, Texas. The cart crashed into Spring Dekaney coach Willie Amendola, who was being interview on the pitch at the time.
Amendola tried in vain to gain control of the runaway cart before being flung back to the ground before a pursuing field worker eventually jumped on the cart and brought it to a standstill.
Footage of the incident was broadcast by TV cameras, with one announcer describing the events as to the crowd: "We have a disturbance down the field. Apparently one of the carts on the field got loose and I think there have been some folks injured in this. Oh my! That's like a runaway cart there. And it finally took someone to stop it.
"That's a scary thing," added the announcer.
One person was taken to hospital with a leg injury, while several others who were hit by the cart were treated at the stadium but thought to have not sustained any serious injuries. Later, televised broadcasts showed Amendola conducting another interview with a small streak of blood on his left forearm.
It is not known exactly why the cart was able to start on its own.
Spring Dekaney, from Harris County, Texas, beat Cibolo Steele 34-14 during the Class 5A Divison II state championships.