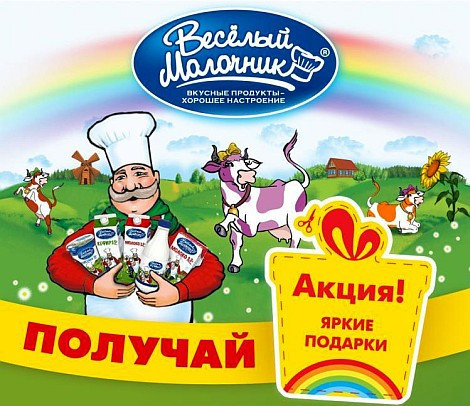 A Russian anti-gay activist group is planning demonstrations against PepsiCo after Vesyoly Molochnik (Happy Milkman), one of the company's subsidiary brands, put a rainbow on its products packaging.
The "controversial" carton shows the happy milkman on a green field with three coloured cows and a rainbow on the back.
Exponents of the Russian homophobic group Narodny Sobor (People's Council) said they will picket shops selling Happy Milkman milk products because the rainbow violates local laws banning homosexual "propaganda".
"In the near future we are planning to picket the shops and hand out leaflets informing people that the money they spent on this milk will be used to finance gay propaganda," activist Anatoly Artyukh told local website Fontanka.ru.
Artyukh is an assistant to Vitali Milonov, the exponent of Putin's party United Russia that wrote the controversial law banning "gay propaganda" passed in St. Petersburg earlier this year.
The law bans public actions aimed at "propaganda of sodomy, lesbianism, bisexuality and transgenderism," that could "damage the health, moral and spiritual development of the under aged," and carries a fine of up to 500,000 roubles ($16,100).
People's Council claims that, being the rainbow internationally recognised as a LGBT community symbol, Happy Milkman should be prosecuted.
PepsiCo Russia vice president Sergei Glushkov denies the allegations of homosexual "propaganda".
"There's no connection to LGBT community. To reflect on the colours of the rainbow didn't come to mind to anyone, except this guy from People's Council."
"This person decided to make a name for himself and become famous, but his allegations are hot air," Glushkov told Russian newspaper Izvestia.
Happy Milkman is produced by the company Wimm-Bill-Dann, which was bought by Pepsi last year.
Earlier this year, People's Council sued Madonna for more than $10 million for "moral damage suffered by St. Petersburg residents," as the singer told her fans that homosexual should have the same rights as anyone else during a concert in the northern Russia city.
In 2009 American anti-gay group boycotted PepsiCo after the multinational corporation gifted $500,000 to LGBT equality-rights advocacy group Human Rights Campaign.