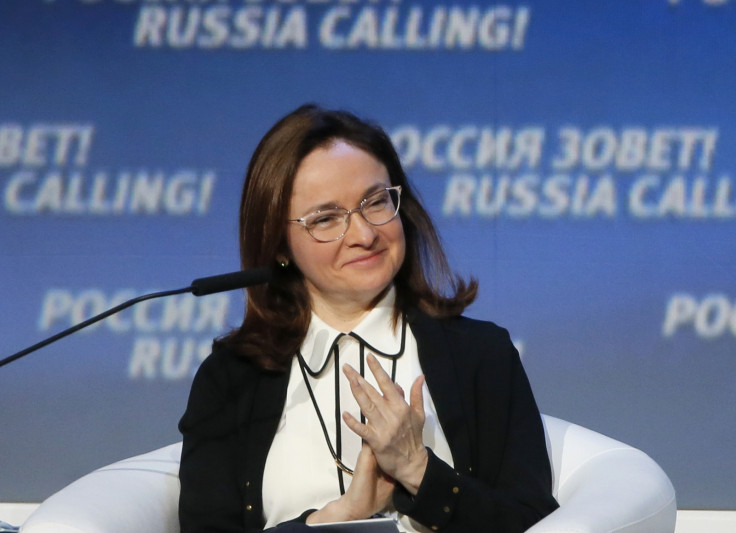 The Russian people have been urged to adapt to "a new reality" by the country's central bank chief, as the economic crisis deepens.
On the day in which the Russian rouble lost 20% of its value against the dollar, following the central bank's decision to increase interest rates to 17%, Governor Elvira Nabiullina issued the stark warning in a live television address.
"We must learn to live in a new reality, to focus more on our own resources for projects and finance and give import substitutions a chance," she said, implying that the Russian people must forget about the imported consumer goods which have become so dominant in their marketplaces.
She also claimed that the rouble was undervalued and implied that the central bank would embark on further action to try and stabilise it.
The rouble recovered slightly this afternoon (16 November) and as IBTimes UK went to press, was trading at around 73 per dollar. This was an improvement on the 80 roubles-plus it took to buy a dollar this morning, but still some 12.5% down overnight.
The collapse came despite Nabiullina's efforts to stabilise the currency by hiking interest rates by 6.5%. Last week, the bank had increased rates by 1% and was accused of not acting decisively enough.
Today's slide led long-time Russia watcher Timothy Ash of Standard Bank to describe it as "the most incredible currency collapse I think I have ever seen in the 17 years in the market, and 26 years covering Russia/CIS."
Pressure will be mounting on Nabiullina, former economic advisor to Russian President Vladimir Putin, to repair the damage done, after a series of failed policy interventions.
In November, the Bank of Russia announced plans to free-float the rouble, having already pumped some $80bn into the foreign currency markets in an effort to arrest its decline. Last week, the bank was forced to admit that it had embarked on a further bout of currency purchases, which pushed the value of the rouble down further still.
And while both interest rate hikes had a short-term positive impact on the currency, the fact that they led to it reaching new lows within hours shows that the actual impact was the opposite of what Nabiullina had intended.
Russia's Prime Minister Dmitry Medvedev is said to be meeting with the key figures in Russia's economy, including Nabiullina, Finance Minister Anton Siluanov and Deputy Prime Minister Igor Shuvalov, this afternoon, with speculation surrounding the future of the central bank chief.