It is not the moneyed oligarchs who will feel the crushing hand of the Russian central bank's decision to hike its key interest rate to 17% in a desperate bid to protect the value of the plummeting ruble.
Millions of ordinary Russians with personal loans and mortgages – most of the country's economically active population – are the ones who will suffer most of all after a consumer credit boom.
In 2013, the International Monetary Fund (IMF) warned Russia about its consumer credit boom. In July that same year, the total stockpile of consumer loans in Russia hit 8.8tn ($134bn, £85.8bn) rubles after nearly doubling across two years.
The pace of consumer credit growth, such as car loans, slowed after the concerned central bank increased its regulation of the financial sector to curb riskier lending. But the debt pile's annual growth rate was still at around 30% at the beginning of 2014, a rapid pace of expansion.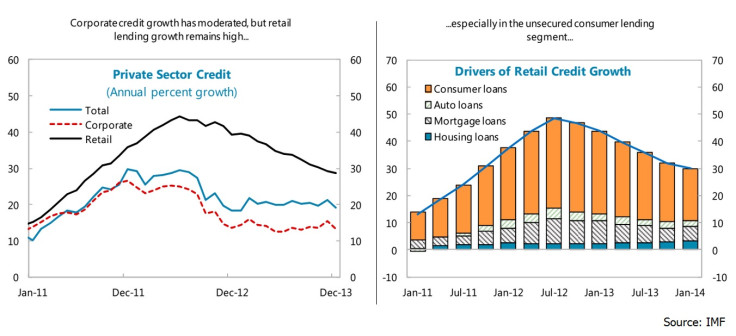 Alasdair Cavalla, an economist for the Centre of Economics and Business Research (CEBR), told IBTimes UK Russia's mortgage stock is "a lot smaller than household debts and I am not aware of much concern over it".
"However, there has been a big rise in mortgage holders behind schedule on payments during 2014 and so there is pain for some," he said.
Cavalla added that the rates hike will not lower inflation much, which is "people's main worry", because it is being fuelled by imports and the ruble's falling value. Inflation was 6.1% in January. It had jumped to 9.1% by November.
Those with variable rate debt have already suffered thanks to the Russian central bank. Its latest hike came up from 10.5%, where it had been lifted in November from 9.5% in its fourth rise since the beginning of 2014. It started the year at 5.5%.
A small portion of Russians have mortgages in foreign currencies because of favourable interest rates. But as the ruble sheds value, they have faced mounting financial pressure. Mortgages in other currencies total 108.5bn rubles in Russia.
"Our $800 monthly payment has jumped to 38,000 rubles from 26,000 rubles since the start of the year," Anatoly Ivanov, a St Petersburg-based software engineer with a dollar mortgage, told Bloomberg. "If my wife didn't work, it would be difficult to make the increase in repayments."
Economic woes
Russia's central bankers are trying to protect the ruble, whose value is collapsing under the weight of many economic concerns. The ruble has hit record lows against the US dollar, euro and sterling. At the time of writing, one euro cent was equivalent to one ruble.
Such a dramatic hike in rates is the last lever it has to pull, having already sold over $80bn of its foreign currency reserves. And that lever appears not to have worked. Even after the rate rise to 17% - a panicked decision taken at a 1am meeting - the ruble collapsed against other currencies.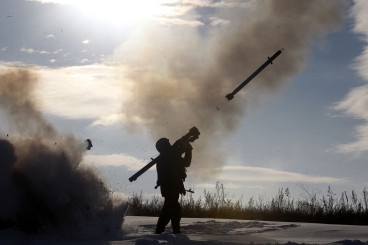 It is under pressure from the Western world over its actions in Ukraine, which has seen it annex the Crimean peninsula and stoke an internal battle between Kiev and pro-Russian separatists. Both the US and European Union have placed financial sanctions on Russia, and vice versa.
On top of economy-denting sanctions, the price of oil is plummeting because of a glut in supply. The US has sharply increased its oil production in recent years off the back of its vast shale reserves.
Since the start of the year, a barrel of Brent crude oil has almost halved in price, from over $102 to $56. Russia is one of the largest producers of oil in the world. Revenues from its petroleum industry, exports especially, account for around a quarter of its GDP.
And because of all this, billions of dollars are flowing out of Russia every month as investors take their money and run. From July to September alone, $13bn of private money left the Russian economy, according to central bank data. In the quarter before, $48.6bn had left.
Much of this has come from investments in Russian stocks, sending share prices down. The Moscow stock exchange has lost 5% since the start of December. Rosneft, the state-owned Russian oil giant, has lost over a fifth of its share price since January 2014.
Now Russia is facing recession.
Bleak outlook
"Already the outlook for the economy is looking bleak for 2015, especially if the oil price remains around these levels," Simon Smith, chief economist at FXPro, said after the rates decision.
"The central bank has admitted that oil at this level could see the economy contract by as much as 4% next year.
"The authorities have clearly put financial stability above the interests of the economy, but this is not something that can be continued, so the way the ruble trades in coming days will be crucial."
As a result of the rates hike, CEBR's Cavalla said lending to the real economy – consumers and businesses – will fall.
"This will exacerbate the lockout from international borrowing that many Russian firms already face due to sanctions," he said.
"About 25% of employed Russians work for the state and politics ensures they won't lose their jobs. But we expect a rise in unemployment soon – as it stands, the unemployment rate has fallen over 2014. The recession will hit this before long."
By trying to underpin the ruble through substantial interest rate increases, the Russian central bank is sacrificing household finances and consumer spending to protect exports, especially oil given the recent price falls.
The question is how hard the Russian economy will be hit by higher interest rates. It is already facing a deep recession and high inflation, as well as the prospect of further oil price falls in 2015, which will leave it with an unforeseen hole in its public finances. And credit was already expensive.
President Vladimir Putin has approval ratings running at around the 80% mark. But nobody is immortal. As Russians face greater financial pain, Putin's position might be as insecure as his economy.