The former spokesman of the Russian Orthodox Church has criticised the creeping authoritarianism of the Church and slammed its increasingly cosy relationship with the Kremlin.
Four months after he was forced out of his job, Archpriest Vsevolod Chaplin says he was fired in December 2015 because he came into conflict with a top figure within the Russian government.
He told Radio Free Europe/Radio Liberty that discontent is growing in the ranks of the Russian elite and expressed dismay at the role taken in public life by Vyacheslav Volodin, the first deputy head of Vladimir Putin's administration.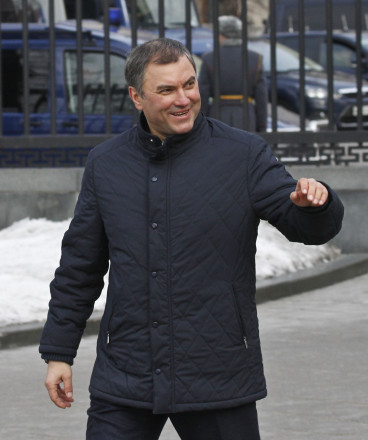 "Mr Volodin does not tolerate objections, does not tolerate independent positions, and expects that people will simply carry out his recommendations. As a person, I think he is quite authoritarian and is surrounded only by people who say yes," Chaplin said.
He described the Church as becoming increasingly authoritarian and criticised the secrecy surrounding Patriarch Kirill's preparations for his meeting with Pope Francis in Cuba on 12 February.
He added that Kirill, who heads the Russian branch of the faith, is submissive to the Kremlin. Many consider that Putin has used the Church to foster Russian patriotism which many say has led to anti-Western sentiment among the Russian population.
Chaplin said of Patriarch Kirill: "The methods that he uses, his approach to... church-state relations, this is what should retreat into the past. And it will definitely retreat into the past.
"A lot has remained from Soviet times when priests were too afraid to speak frankly to the people in power, to criticize them. This whole phenomenon is in the spirit not even of yesterday but of the day before yesterday. It cannot go on for long," he told RFE/RL.
Chaplin is a conservative and in the past has spoken of his support for Putin as well as expressing conservative views on issues such as sexuality. But he fell out of favour when he did not take the government line on the wars in Syria and Ukraine.
Chaplin had also in the past criticised the political elite in Russia for corruption. However, he was relieved of his duties soon after he called for the Church and the Russian government to be more active in east Ukraine, saying: "we shouldn't have betrayed these people".
He also backed Russia's bombing of Syria, terming it a "holy struggle", which was at odds with the Kremlin line, which is trying to balance the sentiments of the wider Russian population with those of the country's 15 million Muslims.