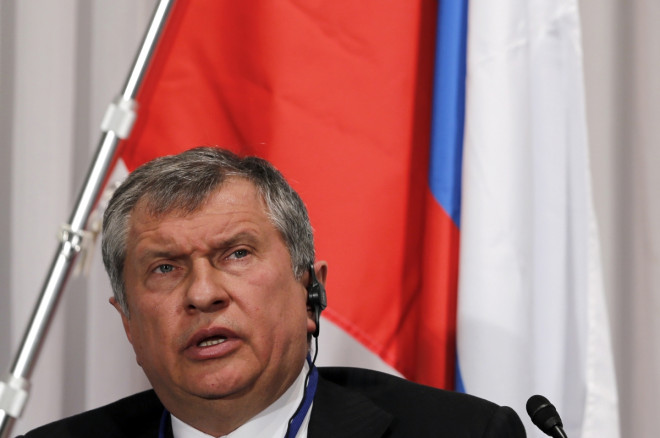 European banks are still doing business in Russia, but as sanctions mount it will become more difficult, choking Russia's economy of a vital supply of liquidity.
In April, the Bank of America and the Royal Bank of Scotland pulled out of a proposed syndicated $1bn loan for the Russian gas producer Sibur after Gennady Timchenko, who owns a 37.5% stake in the company, was sanctioned by the US.
This week, however, the Russian fertiliser giant Acron Group secured a $400mn loan facility. Among the lenders were ING of the Netherlands, Nordea Bank of Sweden and Austria's Raiffeisen Bank.
Russian bank Rosbank, which is a subsidiary of Société Générale of France also lent money to the deal, along with the Industrial and Commercial Bank of China.
When contacted by IBTimes UK, Nordea Bank spokesperson Stephan Ghisler-Solvang said: "We continue to do business with our customers while we closely monitor the situation and follow the sanctions introduced by the EU and the US."
No individual associated with Acron has yet been sanctioned, but oligarch owner Viatcheslav Kantor's has known links with Russia's president Vladimir Putin.
The loan has been secured on the back of fertiliser exports: a move which could backfire. Should Russia be slapped with trade sanctions, the guarantee immediately becomes more volatile.
But the transaction, signed in Moscow, shows that some banks are still willing to open lines of credit with Russian companies, which have become a more important source of income for banks in recent years.
Last year, oil and gas heavyweight Rosneft raised more than $16bn on the international markets to fund the purchase of TNK-BP. Among the lenders were Britain's Barclays, BNP Paribas and Crédit Agricole, both French.
With CEO Igor Sechin appearing on the latest list of sanctioned individuals, Rosneft is unlikely to be able to do the same any time soon.
Many Russian companies are heavily-indebted and refinance their loans on an annual basis. An inability to do this would be disastrous. Access to financial markets is vital to Russia's financial health.
It's argued that sanctions on Iran only started having a real impact once its banks and companies were starved of international capital. Ageing infrastructure in its dominant energy sector meant efficiency fell dramatically, but there was no finance available to improve it.
This week the deputy chairman of Russia's state-owned development bank VEB, Alexander Ivanov, fuelled speculation that Russians are struggling to raise European capital by saying: "Not all the banks are ready to commit to participation in a new loan in an environment of political uncertainty."
Borrowers have been courting Asian lenders in an attempt to diversify their funding channels. Sechin is expected to accompany Putin on a trip to China this month. Putin will be hoping to secure political support from Beijing, with Sechin looking for financial backing.
State-owned lender Sberbank met with investors in Hong Kong and Singapore last week while Gazprom, which is close to sealing a major gas export contract with China, has reportedly done the same this week.
Sanctions have been minimal to date. But if they are extended, there's little doubt western banks will be deterred further. It's when business is starved of cash-flow that pressure will begin to build on Moscow in earnest.