Authorities in the Arctic city of Norilsk have begun an investigation into a possible pipeline break after a river running through the city turned red. Residents of the nickel-producing city, located in the north east of the country, noticed that the Daldykan River had changed colour on Tuesday (6 September).
Speculation by social media users centred on a possible break in pipes serving the nickel-producing town, leading to industrial waste leaking into the river. Other theories mentioned iron ore seeping into the water through the ground.
In a statement, the natural resources and environment ministry in Russia said that they were probing complaints of unknown chemical pollution, possibly caused by a "break in a Norilsk Nickel slurry pipe".
According to the Guardian, the Daldykan runs near to the Nadezhda metallurgical factory, run by the world's largest producer of nickel and palladium, Norilsk Nickel. The company have reportedly denied a chemical leak saying the "colour of the river today doesn't differ from its usual condition", the state news agency RIA Novosti reported.
The company added, according to the newspaper, said it was temporarily reducing manufacturing at the Hope Metals Plant while it monitored the situation. The river is not believed to supply drinking water.
ABC News reported that Norilsk is known as one of the most polluted cities on earth, and the river had previously turned red in June of this year.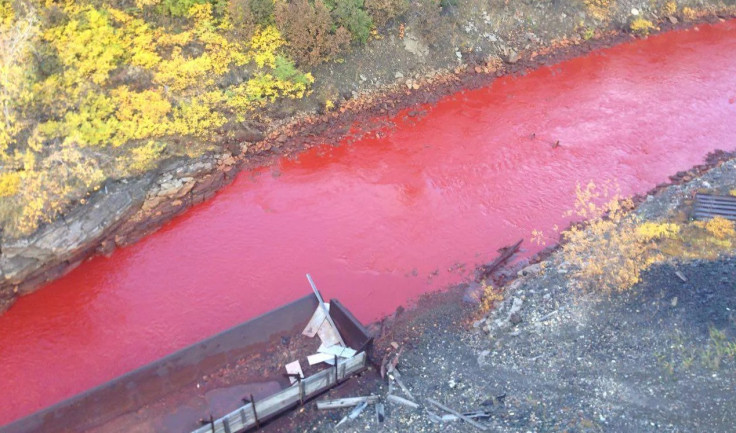 Denis Koshevoi, a PhD candidate at the Vernadsky Institute for Geochemistry and Analytical Chemistry, is researching pollution in the area. He told the Guardian: "Periodically there are accidents when these pipes break and the solutions spill and get into the Daldykan – that's why it changes colour".
"A leak into the river from the Nadezhda factory," the Norilsk resident Yekaterina Basalyga wrote under two pictures of the river on her Instagram account. "You get scared when you see this. And people are still gathering mushrooms and berries."
In July 2014 a contaminated river in Cangnan county, Wenzhou, Zhejiang province, turned bright red. Environmental Protection Bureau officers in China were unable to figure out the cause of the colour change but some reports say that water samples could have been caused by illegal dumping.